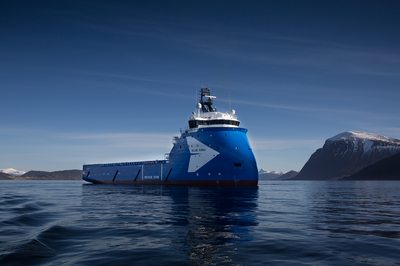 Blue King (Norside Cetus)
The PX121 designed vessels are medium-sized platform supply vessels (PSVs) with a favourable combination of fuel efficiency and load capacity, and flexible platforms for later conversions to other segments. The Norside Cetus will be converted to a Service Operation Vessel for Offshore Wind.
Owned By
Blue King (Norside Cetus)
Operated By
OSM Offshore Bergen/Vestland Offshore
Additional Data
Ballast water / Drill water
1664
Liquid mud (sp. gr.2,8 t/m3)
1293
Brine (sp. gr. 2,5 t/m3)
1293
Note: Specifications may have changed since the original completion date.
Classifications:
DnV1A1,
OffshoreServiceVesselSupply,
SF,
E0,
DYNPOS-AUTR,
CleanDesign,
COMF-V(3)C(3),
LFLFuelled,
NAUT-OSV(A),
DK(+),
HL(2.8),
ICE-C,
OILREC
Ship history
In total, 30 vessels of this design have been contracted by different ship owners for construction at various shipyards worldwide. ?Blue King? is the 10th being constructed at Ulstein Verft, and is a sister vessel to 'Blue Queen.' Delivered in May 2016. All numbers above relate to the vessel's state at delivery, not after its later conversion (2022.)
 
Milestones
June 2019: Taken over by Sverre Farstad & Co. The vessel has been renamed 'Farland', the same name as the first vessel of the original Farstad fleet which was delivered in 1959.
January 2023: The PX121 design has once more proven to be a preferred design for conversions into new segments, and 'Farland' is about to transfer from the offshore oil & gas industry to the offshore wind industry. Sold to Norside, the vessel will be converted to a W2W offshore wind vessel. The accommodation will increase from 22 to 60 persons, a new accommodation module will be installed, as well as a battery package, a gangway and cranes. The vessel will change its name to 'Norside Cetus'.