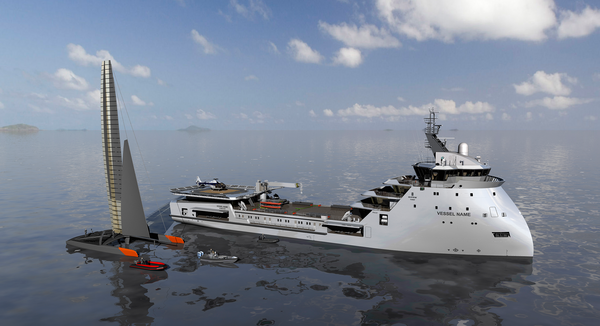 Design conversions
Embrace change and fuel your fleet's future with our expert vessel conversion services.
Navigate tomorrow's challenges with our comprehensive vessel conversion services
The maritime industry is constantly evolving. Your once state-of-the-art fleet now faces new challenges: shifting market dynamics, rigorous environmental regulations, and the constant headwind of rising fuel costs. These vessels, designed for decades of service, can feel adrift in the current climate, struggling to keep up with the pace of change and attract the interest of charterers and potential purchasers.
You're not alone in these rough waters. Many in our industry wrestle with the same issues: escalating operating costs, falling profits, and a shrinking market share. The investment required to build a new fleet can seem daunting, and the long lead times exacerbate the problem. 
ULSTEIN can offer a lifeline with comprehensive vessel conversion, upgrade, and retrofit services. Our seasoned designers and engineers are ready to inject new vitality into your fleet, reimagining and repurposing vessels to navigate any market segment. With us as your partner, your fleet will be ready to conquer the challenges of tomorrow's maritime industry. 
 
Discover profitable market expansion and sustainable power solutions
Quick delivery, lasting impact - our vessel conversions transform fleets.
Extended operational life:

Conversions and retrofits significantly extend a vessel's service life, maximizing the value of the initial investment.

Fast delivery advantage:

Vessel conversions offer the benefit of shorter delivery times compared to commissioning entirely new builds.

Future-ready flexibility:

Conversions allow vessels to adapt to future market changes or regulatory environments, enhancing their long-term operational versatility.

Energy efficiency competitiveness:

Retrofitting with energy-efficient technologies such as battery systems and shore connections reduces operational costs and ensures compliance with stringent emissions regulations.

Market expansion simplicity:

Simple conversions, like installing mezzanine decks and ROVs, enable shipowners to explore new, potentially more profitable markets with minimal adjustments.

Sustainable power transition:

Using alternative fuels like methanol, ammonia, or hydrogen in retrofitting reduces environmental impact and promotes sustainable operations.

Versatile sector adaptability:

Offshore vessels can be adjusted to cater to different sectors like fishing, aquaculture, or yachting, diversifying revenue streams.

Quality assured conversions:

Collaborative efforts between naval architects and project teams ensure conversions meet high quality standards and cater to specific shipowner needs.

Attractive battery upgrades:

Minor investments in retrofitting vessels with battery systems significantly enhance their market appeal.

Compliance and comfort enhancements:

Upgrades addressing regulatory changes and improving crew accommodations boost the vessel's overall performance and appeal.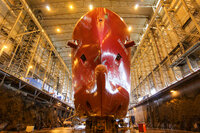 Aftermarket services at Ulstein Verft
Stay competitive with our aftermarket services. 
Shipowners and operators face a rapidly changing maritime industry. They meet new and stricter regulatory requirements, and operations must be more sustainable and energy-efficient. Further, vessels must ensure maximum value throughout their lifecycle.
Get in touch

Roy Lindset
Description

Manager service dept.

Affiliation

Ulstein Design & Solutions AS

Martin Sundgot Hansen
Description

Sales Manager Aftermarket

Affiliation

Ulstein Verft AS