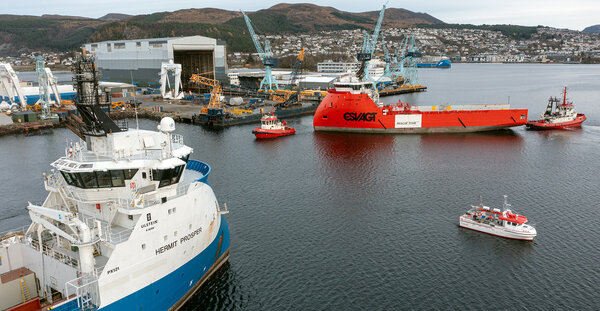 Upgrading tonnage to a new life
A shipowner's decision on upgrading a vessel into an updated, ready-classed version, or converting it to a new segment can lead to increased interest and a firm contract. Our shipbuilding team can perform the job, and secure the shipowner a competitive vessel with a short delivery time.
Streamlined collaboration
Ulstein has a complete team of experts in design and engineering, shipbuilding and power & control integration.
Our shipyard in Norway delivers high-quality ship repair and conversions. Close collaboration between naval architects and the project team secure cost-effectiveness, quick responses and complete conversions.
Upgrades and modernisation
The refurbishment of the 'Ocean Adventurer' expedition cruise vessel included a general modernisation throughout the vessel, with significant technical upgrades, securing a vessel with increased fuel efficiency and, subsequently, a minimized carbon footprint.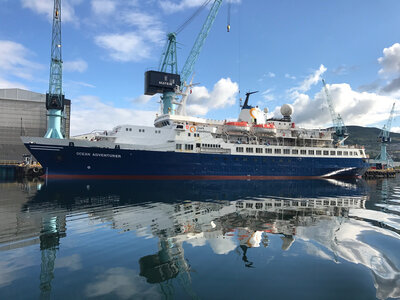 The expedition cruise ship Ocean Adventurer has been upgraded at Ulstein Verft. Photo Hugintug.
Conversion to other vessel types
We can transform an offshore vessel, such as a PSV, into another offshore type vessel, typically a multipurpose support vessel, light subsea construction vessel or offshore wind service vessel, or into a non-offshore vessel like a fish carrier or expedition cruise vessel.
The platform supply vessels of the ULSTEIN PX121 design, 'Esvagt Leah' and 'Esvagt Heidi', were originally built at Ulstein Verft and returned to the yard in 2021 to be upgraded to more environmentally friendly power solutions and a new life as ERRV vessels.
The scope of work by Ulstein included project management, procurement, engineering, production and power & control deliveries. A battery deckhouse with a grid support unit for hybrid power has been prepared, the methanol tanks rebuilt to carry liquids under the OSV Chemical Code, and on the main deck, new prefabricated deck houses have been installed accommodating rescue zones, and new ESVAGT type Fast Rescue Boats.
Ulstein Power & Control delivered the power and automation solutions to the vessels as newbuilds. Their delivery now included the power and automation system for the battery package, frequency converter, drives and switchboard reconstruction, and installation and commissioning of Ulstein's delivery.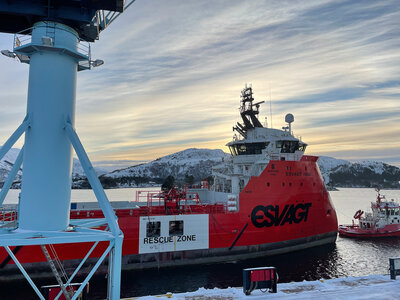 Esvagt Heidi' after her launch from the dock hall at Ulstein Verft.
Major conversion in five months
The 'Normand Cutter' and 'Normand Clipper', were initially built as cable laying vessels at Ulstein Verft. The vessels were later converted at Ulstein Verft into pipelaying/construction vessels. The major conversion (read more) can be compared to the newbuild of a platform supply vessel and was carried out in just five months.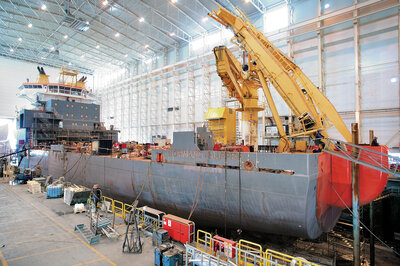 'Normand Clipper' being reconstructed, photo from the dock hall at 7 April 2005. Photo: Tony Hall
Design calculations, analyses and tests
The Kasteelborg (previously Blue Queen) has been converted at an external yard from a platform supply vessel of the PX121 design to a W2W ERRV vessel. Ulstein Design & Solutions AS performed the weight estimates based on the ship's data and data for the new components, including the accommodation block, the motion-compensated crane and the motion-compensated gangway, and also carried out stability and electricity balance calculations, motion analysis and heel test.
On-time deliveries
ULSTEIN is a group of maritime-oriented companies. As offshore experts, we know how sea forces can beat and hammer a vessel. As ship designers, we possess expert teams for all parts of a vessel, including areas such as hull strength, hydrodynamics and machinery. Our yard, the Ulstein Verft, is a long-term partner with expertise in building, converting and repairing vessels. Our dock hall secures top facilities for any vessel's safe and controlled repair and upgrades.
We develop basic and detailed conversion designs based on our ULSTEIN or external designs. Close collaboration between our naval architects and the project team secures cost-effectiveness, quick responses and complete conversions delivered on time. Our power & control team are experienced in integrating power and upgrading alternative power sources.
References through 100 years
Established in 1917, ULSTEIN has built ships for over a century and developed our ship designs since the early 1970s. Our references include offshore vessels, passenger vessels, RoPax vessels, fishing vessels and more. We can partner in project management, system integration and on-board solutions. We design to secure safe and reliable operations with low emissions, resulting in cutting-edge solutions and reduced life cycle costs. This contributes to high productivity and an improved return on investment.
Get in touch

Roy Lindset
Description

Manager service dept.

Affiliation

Ulstein Design & Solutions AS

Martin Sundgot Hansen
Description

Sales Manager Aftermarket

Affiliation

Ulstein Verft AS

Rolf Ottar Rovde
Description

Sales Manager

Affiliation

Ulstein Power & Control AS