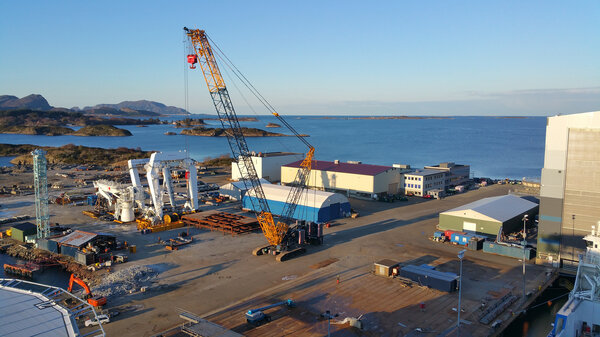 Crane lift and transport
Ulstein Verft specialises in heavy lift and transportation services. Our flexible equipment solves many lifting and transportation challenges on land and at sea.
Optimising time and resources
The Terex crane is a workhorse in our shipyard operations. Its impressive lifting capacity and versatile boom configurations can easily handle heavy loads up to 600 tonnes. Whether transferring ship components, containers, or other heavy equipment, the Terex crane provides the necessary strength and precision for safe and efficient lifting operations.
The Goldhofer SPMT multi-wheeler excels in transporting oversized and overweight cargo, and in combination with the Terex crane, we can provide a seamless and efficient workflow.
The seagoing barge is valuable for transporting the crane and/ or goods between locations. 
We can offer our crane lift and transportation services along the Norwegian coast. 
Mobile crane
CC2800-1 crawler crane
Max capacity 600 t
60 m arm: 14 m radius, lifting capacity 476 t
114 m arm: 14 m radius, lifting capacity 162 t
Video: 250t crane lift, the Terex CC2800-1 mobile crane being used for service dismantling of a quayside crane.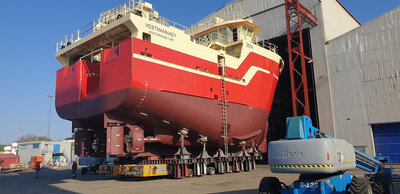 Multiwheeler transport
2 Goldhofer SPMT (self-propelled module transporters)
Heavy load transport: The two multiwheelers have a total capacity of 640 tonnes
The SPMTs are typically transported along the Norway coast on our 'Flex' barge and our mobile crane.
Seagoing barge 'Flex'
LOA 67 metres
Breadth 21 metres
Max capacity 3,697t
Video: Loading a 750-ton winch package at the I. P Huse winch production facilities use the Terex CC2800-1 crawler crane and the Flex barge.
Yard facilities
Ulstein Verft is a compact and complete shipyard to serve your needs.