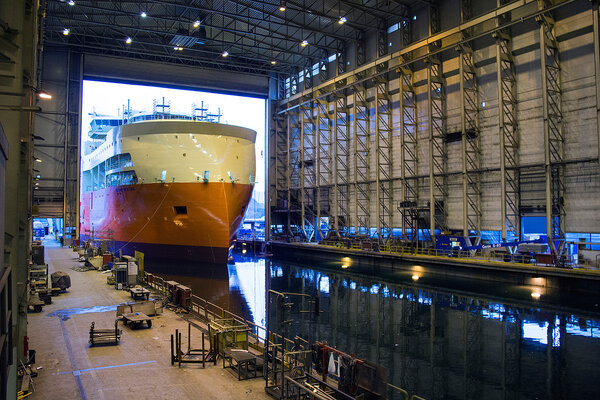 Dry dock and dock hall
The controlled environment within a dry dock provides an optimal setting for ship construction and ship repair projects. Shielded from the elements, our workers can operate safely and efficiently, unfazed by inclement weather or turbulent waters. This climate-controlled haven ensures precise measurements and fittings and enhances the vessels' longevity and durability, reinforcing our commitment to delivering uncompromising quality.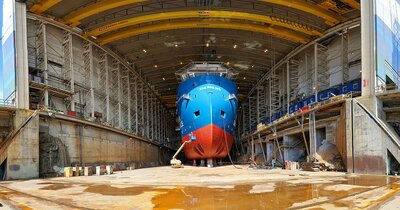 Enhancing efficiency and excellence
Ulstein Shipyard's dry dock and dock hall offer numerous benefits for shipbuilding and maintenance. The state-of-the-art facilities provide a controlled environment for efficient and precise work, ensuring high-quality results. With the ability to accommodate large vessels, the dry dock enables easy access to the hull for inspections, repairs, and modifications. The dock hall offers additional space for outfitting and assembly, shielding the construction process from adverse weather conditions. These facilities at Ulstein shipyard enhance productivity, reduce downtime, and contribute to the timely delivery of superior vessels.
Docking capacity
Dry dock can be divided in a covered, inner dock (dock hall) and an outdoor dock.

Total dock length: 225 m
Dock length outer dock: 107 m, dock length inner dock: 110 m
Dock breadth: 36 m, gate breadth dock hall: 34 m
Height dock blocks: 1.5 m
Azimuth thruster mounting well: 7.6 m (l), 5.6 m (b), 2.45 m (d)
4-point winch and fairlead arrangement for docking and undocking, each winch 10t, tension-controlled
Dockside crane I / II: 60 t / 85 t
The outside dock features a retractable thruster maintenance pit

Total 140 m (l), 55 m (b)
Docking Panama max
Main travelling cranes 2 x 250 tonnes - Tandem lift - 500 tonnes
Two auxiliary travelling cranes, each 10 tonnes
Crane hook height 40 m from the dock floor

Length 240 m (largest of two quays)
Crane I capacity 85 tonnes
Crane II capacity 75 tonnes
Yard facilities
Ulstein Verft is a compact and complete shipyard to serve your needs. 
Get in touch

Martin Sundgot Hansen
Description

Sales Manager Aftermarket

Affiliation

Ulstein Verft AS

Lars Lühr Olsen
Description

Managing Director

Affiliation

Ulstein Verft AS