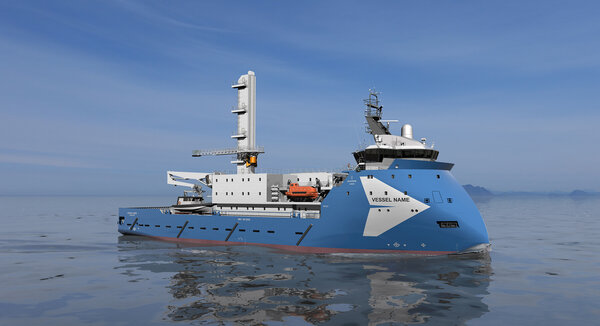 Giving a second life to offshore vessels
Offshore vessels are built to be in operation for 20 years or more. With an operational horizon of such a length, it is complicated and potentially costly to prepare the vessels for all potential changes in the future. The possibility is nonetheless high for later, alternative utilisations in other markets.
Adapting offshore vessels for new markets
Market changes, new or stricter regulations and fuel price developments are all factors that can challenge the performance of vessels and make them non-competitive. Fortunately, shipping companies can cope with this by adapting their vessels. For example, growing demand for survey operations can open up an opportunity for owners with platform supply tonnage to reposition their activity. A relatively simple conversion with a mezzanine deck and remotely operated vehicles (ROV) can be sufficient to get an entry into the survey market.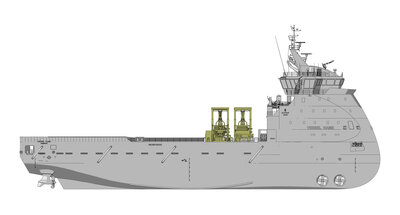 Conversion of a PX121 design including mezzanine and two ROVs.
Energy efficiency
Increasing the energy efficiency of the vessel or its systems is, and will be, popular means to increase the competitiveness of the vessel, reduce operational costs and comply with stricter emission regulations. Retrofitting battery systems and installing shore connections have become popular among offshore vessel owners.
Greener power sources
Alternative fuels are also on the radar, with methanol at the forefront. Methanol presents features that make it attractive for platform supply vessels (PSV) and other offshore vessels. Technology is already available, and volume losses can be acceptable. It is only up to the availability of green methanol that we can see vessels being retrofitted to methanol. Ammonia and hydrogen are also on the radar of many shipping companies.
Alternative markets - an alternative to extend the life of offshore vessels
The features of many offshore vessels make them inherently flexible and adaptable to be used as bases for alternative uses. Not so commonly seen in other shipping markets, many offshore vessels end their lives in the fishing, aquaculture and yacht markets. One example is the picture below, which represents a potential conversion of a platform supply vessel into yacht support tasks.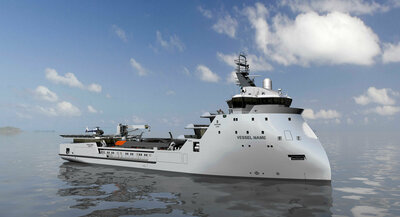 A former Platform Supply Vessel redesigned into a yacht support vessel.
Ulstein has, in recent years, explored 30 alternative market uses for existing platform supply vessels utilizing conversion, upgrades and retrofit solutions.
CONVERSIONS: To renew, redesign, and rebuild ships to new technical and functional requirements;
UPGRADES: The update, renewal and/or expansion of onboard systems and equipment to higher standards - function, capacity and capability - to re-brand the vessel;
RETROFITS: The addition of new technologies or features to existing systems and equipment;
These 30 applications relate to four vessel markets: energy, leisure, ocean biomass, and other miscellaneous industrial and contingency applications.
Five potential applications
We have found five possible applications of the platform supply vessels built which have been based on our ULSTEIN PX121 design, these five are highlighted in the table below.
More details about these and other case studies can be arranged:
Get prepared for crisis situations

Pandemics, fires, draughts and floods are some of the many situations where an urgent need arises. An Emergency Support Vessel (ESV) can function as an aid in coastal areas. Ulstein has made a case study on purpose-built and converted tonnage for swift mobilisation to rescue and replenishment purposes.

Yacht and yacht support

Ulstein is a leader in ship innovation and has changed the world of ship design. With an iconic brand we have launched ships still unmatched. All this while continuously innovating systems and products through extensive research and development programs, always combining the latest technology with contemporary design.
Conversions at Ulstein Verft
Our shipyard in Norway delivers high-quality ship repair and conversions. Close collaboration between our naval architects and the project teams secures cost-effectiveness, quick responses and complete conversions. Battery retrofits can enhance the attractiveness of the vessel in the market with a minor investment.
Over the years, Ulstein has gathered multiple experiences from providing vessel life cycle services and renewed life to vessels in operation. An example is the platform supply vessels of the ULSTEIN PX121 design, 'Esvagt Leah' and 'Esvagt Heidi', these were originally built at Ulstein Verft and returned to the yard in 2021 to be upgraded to more environmentally friendly power solutions, and to a new life as ERRV vessels.
Upgrades and modernisation
The refurbishment of the 'Ocean Adventurer' expedition cruise vessel included a general modernisation throughout the vessel, with significant technical upgrades, securing a vessel with increased fuel efficiency and, subsequently, a minimized carbon footprint.
Get in touch

Roy Lindset
Description

Manager service dept.

Affiliation

Ulstein Design & Solutions AS

Martin Sundgot Hansen
Description

Sales Manager Aftermarket

Affiliation

Ulstein Verft AS

Rolf Ottar Rovde
Description

Sales Manager

Affiliation

Ulstein Power & Control AS