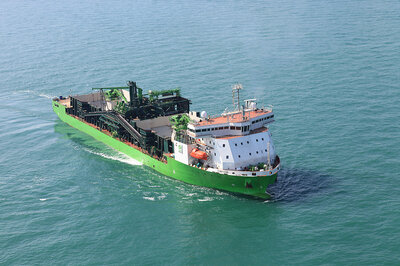 Flintstone
The 'Flintstone' is a deepwater fall pipe vessel and has been designed for rock installation operations in water depths up to 2,000 m. Carrying an Ice Class notation, the vessel can operate under the most extreme conditions.
Additional Data
Propulsion thrusters
2 x 4,600
Swing-up thrusters
2 x 1,800
Main Generator Sets
4 x 4,800
Loading capacity
Approx. 18,000
Rock installation equipment
Huisman stone dumping unit, Seatools AHC fall pipe ROV, mass flow excavation tool, aluminium fall pipe
Note: Specifications may have changed since the original completion date.
Classifications:
LR+100A1,
DP(AA),
+LMU,
UMS,
NAV-1,
CAC3,
EP(A,B,G,N,O,R,P),
ICECLASS1C