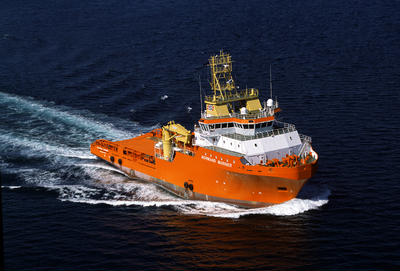 Normand Mariner
A high spec Multifunctional Anchor Handling Tug Supply Vessel of the A101 design, designed for a wide range of offshore operations. A very powerful anchor handler with a 23,500 horsepower diesel engine and a bollard pull exceeding 280 tonnes.
Additional Data
Bollard pull, exceeding
280
Note: Specifications may have changed since the original completion date.
Classifications:
DNV+1A1,
Tug,
SupplyVessel,
SF,
OILREC,
E0,
DYNPOSAUTR,
ICEC,
DK(+),
HL(+)
Ship history
The vessel was named and open to the public on 17 August 2002 at Ulstein Verft dept Vanylven (Fiskå). Four vessels of the same design were delivered from 2002-2003, the sister vessel 'Normand Master', and also two for Olympic Shipping. 
"When the largest and most expensive rigs are to be moved there are great values at stake and the oil companies want anchor handlers with large engine power and the best crews", commented the shipbroker Sølve Høyrem at Westshore Brokers, as all four vessels proved to be very attractive in the North Sea. ?In addition to power, the ULSTEIN A101 vessels also have other attractive features. They have large chain lockers with high capacity and the ability to handle fiber hawsers, which are specifications few anchor handlers can offer.?
Milestones
March 2004: During a heavy storm the trawler "Baldvin Thorsteinsson" stranded at the South Coast of Iceland. 'Normand Mariner' towed the trawler to deeper waters.
2017: Still active - IMO 9249350
From June 2017, Deep Sea Supply, Solstad Shipping and Farstad Shipping became one joint shipowning company, from 1 October 2018 the joint company is named Solstad Offshore.