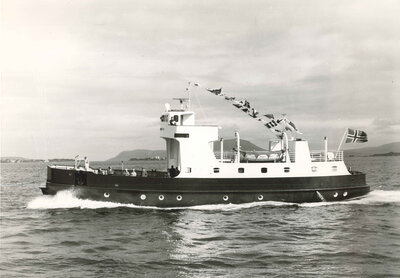 Yno 13U - Foldereid
B.nr. 13U - Byggeår 1959. Rederi: Ragnar Brækkan, Namsos. Bygd ved Ulstein Mek. Verksted A/S​. / Yard number 13 from Ulstein mek Verksted AS, built in 1959. Shipowner: Ragnar Brækkan, Namsos.
Ship specifications at time of delivery/Spesifikasjonar ved leveringa:

 
Length/Lengde: 29,0 m
Beam/Bredde: 8,56 m
Gross tonnage/Brutto tonnasje: 170 t
Speed/Fart: 11 kn
Main engine/Hovudmotor: Wichmann, 400 Hk
Ship type/Skipstype: Car/passenger ferry/ Bil-/passasjerferge
Number of passengers/Antal passasjerar: 145
Number of cars/Ttal bilar: 17
Other ship names/Andre skipsnamn "My", "Queen"
SHIP HISTORY
 
1959 Ship cost NOK 350.000. The ferry serviced "Kongsmoen - Teplingan"
1967 The ferry service was changed to "Bjørnås - Teplingan"
1969 (November) The ferry was taken over by Namdalens Trafikkselskap in Namsos for servicing the connection "Kjerstivika - Seiserstad - Saltnes". 
1970 The ferry was rented by the Stavangerske Dampskibsselskap. 
1971 Bow propellers were mounted by J. Drage AS, Rognan
1989 Upgraded for transport of cars up to 10t axle load. Regular service of the route Ølhammeren - Seierstad
1992 The ferry was taken out of service and announced for sale 
1993 (July) Sold to Nordic Open, Mariehamn, Åland (Sweden) for NOK 550.000, and renamed "My"
1998 Sold to Stockholms Södra Skärgardstrafik, Sweden and renamed "Queen" 
2009: Sold to Ressel Invest AB, Stockholm, Sweden. Still in freight transport (IMO 8429006) in the skerries of Stockholm for Waxholmbolaget 
2016: New main engine Scania D16, 478kW installed
 
SKIPSHISTORIE:
1959 Byggesum 350.000 kr. Ferga vart sett i rute "Kongsmoen - Teplingan". 
1967 Sambandet vart endra til "Bjørnås - Teplingan". 
1969 (November) Ferga vart overteken av Namdalens Trafikkselskap, Namsos for drift i sambandet "Kjerstivika - Seiserstad - Saltnes"
1970 Ferga vart utleigd til Stavangerske Dampskibsselskap
1971 Den fekk montert baugpropeller ved J. Drage AS, Rognan
1989 Oppgradert for transport av biler med opptil 10 tonns akseltrykk. Fast i ruta Ølhammeren - Seierstad
1992 Ferga vart teken ut av trafikk og opplagt for salg
1993 (Juli) Seld til Nordic Open, Mariehamn, Åland for kr. 550.000. Den fekk då namnet "My"
1998 Seld til Stockholms Södra Skärgardstrafik, Sverige og skifta namn til "Queen" 
2009: Selt til Ressel Invest AB, Stockholm, Sverige. Framleis i godstrafikk (IMO 8429006) i Stockholms skjergard for Waxholmbolaget
2016: Ny hovudmaskin Scania D16, 478kW installert