Yno 200 - Northern Eagle
Yno 200, the stern trawler 'Northern Eagle', was delivered from Ulstein Hatlø AS in 1988. This was the first in a row of conversions for American shipowners.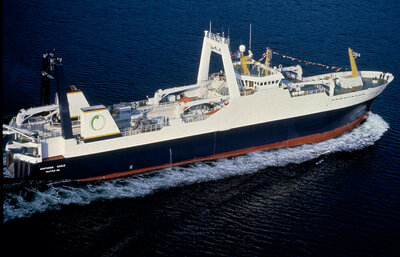 Length / lengde: 105 m


Beam / Breidde: 15,45 m


Speed / Fart: 14 kn


Bollard pull / slepekraft: 65 t


Main engines / hovudmaskineri: 2 x Bergen Diesel, total 6700 Hp / Hk


Crew / Mannskap: 88


Ship type / skipstype: Stern trawler - surimi / Fabrikktrålar - surimi
Ship history
Originally built for cargo transport in 1966, the 'Mauna Kea' was taken from Hawaii to Ulsteinvik, Norway, for the conversion. Parts of the original vessel was used in the conversion work. The price tag at the time was approximately 250 mill NOK.
1998: The vessel was sold to American Seafood.
2017: Still active.
Historie
Byggnummer 200 - Levert april 1988 (ombygging). Rederi: Northern Eagle Partners L.P., Alaska, USA.
Verft: Ulstein Hatlø AS. Utrustningsverft: Avd. Hatlø
Dette var den første av fleire omfattande "ombyggingar" til amerkansk reiarlag. For å unngå amerikanske lover om at alle nybygg skulle vere bygd i USA, vart ein stor lastebåt, "Mauna Kea", slept frå Hawaii til Ulsteinvik. Delar av båten vart brukt opp att slik at det vart ei "ombygging". Prisen på båten i 1988 var ca. nok 250 mill.
1998 Båten blei seld til American Seafood (Røkke).
2001 Framleis i fiske i Alaska
2017 Framleis aktiv . Eigar er fortsatt American Seefood, Seattle WA, USA. Flagg: Seattle WA, USA