Yno 208 - Norørn
B.nr. 208 - Byggeår 1988. Rederi: Støbakk & Volle, Ålesund. Verft: Ulstein Hatlø AS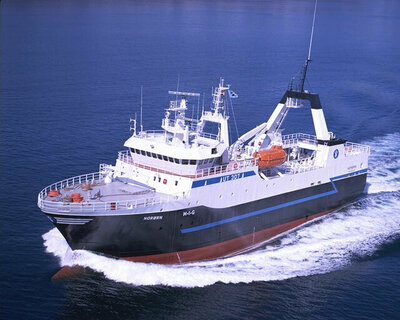 The vessel is a UT 307 designed by Ulstein Trading Ltd. and built at Ulstein Hatlø yard, division Hatlø, to Det norske Veritas Class + 1A1 - Stern Trawler - E0 - ICE - 1A.
MAIN DIMENSIONS
Length over all: 60,50 m
Length between perpendiculars 51,60 m
Moulded breadth: 14,00 m
Moulded depth to main deck: 5,60 m
Draught: 6,545 m
Deadweight: 1065 t

TANK CAPACITIES
Fuel oil: 612,1 m3
Lub. oil: 18,1 m3
Hydr. oil: 19,6 m3
Fresh water: 102,3 m3
CARGO CAPACITIES
No. 1 Hold Lower Deck: 1061 m3
No. 2 Upper Deck: 132 m3
Meal store: 406 m3

SPEED AND PULL
Speed at ballast draft: 14 knots
Bollard pull: 62 tonnes at 750 rpm
46 tonnes at 650 rpm

TECHNICAL DATA
BMV Bergen Diesel Main Engine, type BRM-8 2940 kW at 750 rpm 1900 kw at 650 rpm
Ulstein Main Gear, type 1500 - AGSC-KP25
Ulstein CP Propeller, four bladed 4000 - 2944 kW, 128 rpm
Ulstein Step-up gear 110 AG 650 or 750 rpm/in, 1800 rpm, 1200 kW
Ulstein Bow thruster 90 TV-300 kW
Ulstein High Lift Rudder
Ulstein Passive Stabilizing Tank System
Shaft generator: Leroy Somer 188 kVA at 1800 rpm
Auxillary: Cummins KT 38 G/Leroy Somer 679 kW at 1800 rpm.
Emergency/Harbour aggregate set:
Cummins/Harbour Somer 220 kW at 1800 rpm
Starting air compressors: Sperre
Trawl winches: 2 x 30,5 tonnes
Sweepline winches: 4 x 11 tonnes
Gilson winches: 2 x 18 tonnes
Cod End winch: 1 x 10 tonnes
Outhaul winch: 1 x 10 tonnes
Retrieve winch: 1 x 6 tonnes
Datasoychro 1000
Steering Gear: Tenfjord
Deck Cranes: 1 x 2 tonnes, 2 x 3 tonnes
Filet Factory: Odim/Baader, Norfo/Scanvægt production capacity 45 tonnes 24 h
Fish meal plant: Stord Bartz type TK3
Freezing machinery/plate freezers: Brødrene Gram
ELECTRONIC EQUIPMENT
Radars: 2 x Atlas 7600 AC/TMS
1 video plotter
1 radar adapter
1 Satellite Navigator
1 Loar C
1 Gyro, Anchutz
1 Autopilot, Achscutz
1 Radio Station, Skanti
1 Watchkeeping receiver
1 Radiotelex
1 Scanmar Fishing Control Equipment
1 Colour Echo Sounder ES 380
1 Echo Sounder EO 100 W
ACCOMMODATION
for 36 persons in 10 single and 13 double cabins
Ship history:
Other ship name: Hopen, Karelia II
When the fishing quotas were reduced in Norway in the 1990s, the boat received quotas for New Zealand and fished there for some years, before returning to fishery in Norway. Sold to Åge Remøy and renamed "Hopen".
Sold to Karelian Seafood (Sjøvik Trål ? now: Sjovik Seafood) in Russia and fished on Russian quotas. There are Norwegian owners of the boat and Sjøvik, Midsund is the main shareholder.
1993: New name "Hopen"
2001: New name "Karelia II"
2016: Still in operation - Resident in Murmansk - IMO 8706038. Flag: Murmansk, Russia
Historie:
Då det minka med fiskekvotane i Norge utover 1990-tallet, fekk båten kvoter på New Zealand og fiska der nokre år. Kom tilbake til Norge og fiska her. Vart seld til Åge Remøy og fekk nytt namn "Hopen". Seld til Karelian Seafood (Sjøvik Trål - nå Sjovik Seafood) i Russland og fiska på russiske kvoter. Det er norske eierinteresser med Sjøvik i Midsund som hovedaksjonær.
Andre skipsnamn: Hopen, Karelia II
1993: Nytt namn "Hopen"
2001: Nytt namn "Karelia II"
2017: Fortsatt i drift - Hjemmehørende i Murmansk - IMO 8706038, Flagg: Murmansk, Russland