Yno 242 - Western Neptune
Hull No 242 built by Ulstein Verft AS for Western Geophysical a division of Baker Huges, USA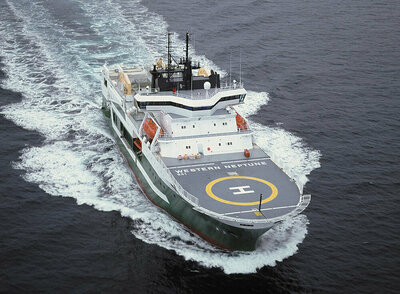 The UT 753 Seismic Vessel is designed by Ulstein Ship Technology AS in close cooperation with Western Geophysical; a division of Baker Hughes. The UT 753 is developed in accordance with the demanding requirements for silent operation at high capacity seismic production. The vessel is equipped with 16 seismic streamer winches for 3D seismic data acquisition. The vessel features an efficient lay-out, providing a comprehensive arrangement of seismic outfitting, spacious computer processing facilities and a highly flexible, redundant and powerful propulsion and machinery package.
Shipboard and hydroacoustic noise is carefully controlled. All major rotating machinery installations are resiliently mounted, and vibration characteristics of the steel structure and hull are made with minor interference from machinery and propulsion plant. M/S "Western Neptune" is built with a hotel compliment of high standards and with capacity for 68 persons. Further with a hull integrated helicopter landing platform for Super Puma or or Sikorsky S61.
2017: Still active - IMO 9187514. Owner and manager: Westerngeco, London, UK. Flag: Panama
MAIN DIMENSIONS
Length over all approx. 92,5 m
Length between p.p. 80,1 m
Breadth moulded 23,0 m
Depth moulded 9,0 m
Max. draught midship (scantling) 7,3 m
Max. draught midship (summer) 7,30 m
BALLAST WATER
Ballast water 3136 m3
Fresh water 446 m3
Deadweight at summer draught 7,3 m 4538 T
Gross tonnage, international 8369 GRT
Net tonnage, international 2511 NRT
CLASSIFICATION
DNV + 1A1, E0, ICE C, HELDK
Flag: Panama.
PERFORMANCE
Speed, approx 15+ knots
Bollard Pull, approx. 150+ tonnes
ACCOMMODATION
The vessel is built with a compliment for totally 68 persons
Six of one-bed cabins with day room and bedroom
Eighteen of one-bed cabins
Fourteen of outboard two-bed cabins
Eight of inboard two-bed cabins
TECHNICAL DATA
Deck Cranes
Two of Deck Cranes, knuckle jib type, 8 T - 14 m
One of Deck Crane, 2 T - 8 m
Rudders / Steering Gears
Two High lift flap Rudders
Two Steering Gears
Side Thruster
One Side Thruster 800TV forward, of 1100 kW
Roll Damping System
Two Passive stabilizing tank systems
Manoeuvering/Positioning
Joystick with three positions in wheelhouse
Portable joystick for aft deck
Navigation / Communication
10 cm ARPA and 3 cm ARPA radars
Electronic chart system (ECDIS)
Radio installation according to GMDSS area A3 Inmarsat C, Inmarsat B
Deck Machinery
One combined Windlass / Mooring Winch, 50 mm chain dia.
Two Capstans aft, pull 5,5 T
Lifesaving Equipment
Two enclosed lifeboats with davits, each for 70 persons
One FRC with one-armed davit
One seismic workboat with one-armed davit (Owner supplied)
4 of life rafts for 25 persons
2 of life rafts for 20 persons
HVAC Plant
Two compressor / chiller units, each with 100 % capacity
Chilled water fancoil cooling system
Dimensioned for 100 % fresh air supply
Separate air handling units for:
Seismic computer room (with 100 % backup), converter room, ECR, and galley
Helicopter Deck
Fixed deck type
Size: 23 m diameter
Dimensioned for Super Puma and Sikorsky S61
Approvals: DNV, UK CAA (CAP 437)
Machinery and Propulsion System
Two Main Engines, each of 3970 kW - 750 rpm
Two Reduction Gears, with secondary PTO for shaft alternators
Two CP Main Propellers in Nozzles, each 3970 kW / dia. 4200 mm / speed 125 rpm
Oil Purification Plant
Two FO Separators (MGO), modularized
Two LO Separators, modularized
Air Compressors
Two Starting air compressor units
One Working air compressors
One Instrument air drier
Fresh Water Generators
Two FW generators, each w. capacity 12 m3 per 24 hours, w. rehardening filter
Fire Fighting Systems
Inergen system for:
Engine room, engine control room and workshop
Compressor room and converter room
Seismic instrument area and misc. stores rooms
Incinerator room
CO2 system for emergency generator room
CO2 system for galley hood
Foam system for helicopter deck
SW Sprinkler system for all work decks
Electric Power Plant (450 Volt AC - 60 Hz)
Two Shaft Alternators, each of 3000 kVA
Two Generator sets, each of 1800 kVA
Emergency Generator, 375 kVA
UPS / Clean power system
208 V / 120 V - 75 kVA
Electric Equipment
Main Switchboard 450 V, 220 V, and 120 V
Emergency Switchboard 450 V and 220 V
Automation system with PC control of alarm / monitoring system and tank sounding system