Yno 34H - Koralhav
B.nr. 34H - Byggeår 1967. Rederi: P/R Br. Davik, Brattvåg. Bygd ved Hatlø Verksted.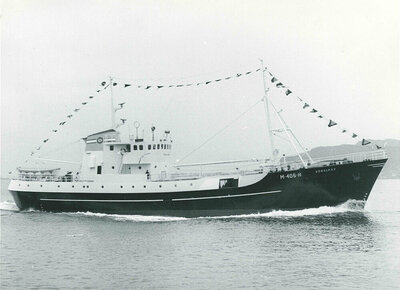 Lengde: 49,00 m


Bredde: 9,20 m


Brutto tonnasje: 498 tonn


Fart: 13,4 knop


Hovedmotor: Deutz Effekt: 1200 Hk


Skipstype: Linebåt

Klassa i det Norske Veritas for havfiske

Andre skipsnavn: "Finnur Fridi"

HISTORIE:
Frå lokalavisa 'Vikebladet' i 1967:
'Koralhav' som blei levert til dei kjende Davik-karane i Brattvåg, er ein heilt moderne linebåt på 160 fot, som kan laste 500 tonn saltfisk. Båten, som er spesialkonstruert for linefiske ved Grønland, kan vise til ei rekke framtredande tekniske fordelar. Vi nemner ein hovudmotor som yter 1200 Hk ved 380 O/m. Hjelpemotorane er arrangert for parallellkøyring. Elles finst det ombord to ferskvassgeneratorar på 1 og 2 tonn ferskvatn i døgnet, to radare med interswitching system montert i styrehuset. Styrehuset er i heile skipets breidde.
Harald Notanes frå Ulsteinvik var maskinist om bord nokre år då båten høyrde heime i Brattvåg.

1967 - 1979 Linefiske ved Grønland.
1979 Ombygd til tråler og skifta hovedmotor til 3300 Hk. Deutz.
1979 - 1987 Trålfiske i Barentshavet.
1988 - 1990 Båten var i opplag.
1990 Båten vart seld til Spania og ombygd til linebåt igjen. Båten vart registrert i Chile og dreiv med linefiske der. Dette var den første fiskebåt med bulb-baug.
2016: Status "Decommissioned or Lost" - IMO 5404031