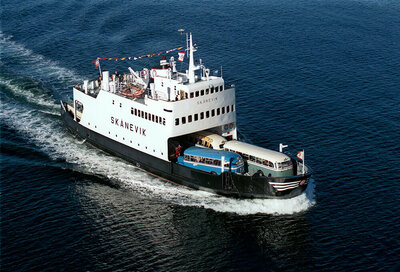 Yno 47U - Skånevik
Yno 47, built at Ulstein Mek. Verksted in 1967. Since 2006, the car ferry Skånevik has been under a preservation order from the Norwegian Directorate for Cultural Heritage. It was the first vessel built by Ulstein with a direct current electrical system and furnished with plastic-coated chipboard.
Length/Lengde: 44,31 m
Beam/Breidde: 9,93 m
Gross tonnage/Brutto tonnasje: 378 t
Speed/Fart: 12 kn
Main engines/Hovedmotorar: Wichman 3ACAT, 2 stk.
Ship type: Ferry / Skipstype: Ferje
Passengers / Passasjerantal: 348
Cars / Bilar: 30
HISTORY
Skånevik originally serviced the routes Skånevik - Utåker and Fjellberg. The fjord ferry, now the 'culture ferry' 'Skånevik' is currently owned and operated by Ferjelaget Skånevik, a voluntary association. The ferry and her interior are all original from 1967.
2001: The ferry was taken our of daily operation
2005: Ferjelaget takes responsibility for the veteran ferry
2006: Preservation order for Skånevik
2016: "Skånevik" is still in operational condition - IMO 6714823.
2017: Ferjelaget celebrated the ferry's 50-year-anniversary in June 2017. The ferry is in daily operation in Kaupanger in Sogn, and is looking just as smart as she did when she left the yard in 1967.
HISTORIE:
B.nr. 47U - Byggeår 1967. Rederi: Hardanger Sundhordlandske D/S (HSD), Bergen. Gudmor: Fru Janna Vaage. Skrogverft: Molde Verft A/S. Ulstein mek. Verksted A/S utførte maskinmontasje, innreiing og utrusting.
Bilferja "Skånevik" trafikkerte sambanda Skånevik - Utåker og Fjellbergruta. Skånevik er er eit eksempel på dei klassiske fjordferjene frå den tida dei var på sitt finaste. Ferja var første båten frå Ulstein mek. med likestraum og innreiing av plastbelagte sponplater.

2001: Ferja blei tatt ut av drift.
2005: Ferjelaget Skånevik blei stifta 22. januar 2005, og i mars 2005 blei fartøyet endeleg overtatt av Ferjelaget. Ferjelaget sitt hovudformål er å verne og vedlikehalde fartøyet etter antikvariske retningslinjer.
2006: Freda av Riksantikvaren i 2006.
2016: "Skånevik" er framleis i operativ stand - IMO 6714823. Ombord er alt originalt som då ho vart levert.
2017: Ferjelaget markerte i juni 2017 at ferja vart 50 år. Båten er i drift kvar dag i Kaupanger i Sogn, og er like fin i dag som han var når han gjekk frå verftet i 1967.

Photo below: In courtesy of 'Ferjelaget Skånevik'