Yno 48U - Linge
B.nr. 48U - Byggeår 1967. Rederi: Møre og Romsdal Fylkesbåtar (MRF). Gudmor fru Liv Sjøvik. Bygd ved Ulstein mek. Verksted A/S. Ferja var utstyrt med to salongar under dekk, ein stor med sitjeplass for 90 passasjerar og ein liten med sitjeplass for 19 passasjerar (ikkje røykjarar).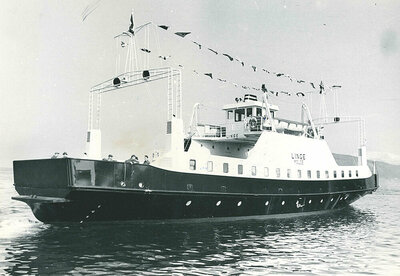 Lengde: 39,5 m


Bredde: 9,5 m


Dødvekt: 170 tonn


Fart: 11,3 knop


Hovedmotor: Deutz-Schottel Effekt: 460 kW - 230 Hk


Skipstype: Bil/passasjerferge


Antal passasjerar: 218 stk.


Antal bilar: 28 stk.

Andre skipsnamn: "Flekko"

HISTORIE:


Frå lokalavisa 'Vikebladet' 20. april 1967:
Dette er den sjuande ferja Ulstein mek. Verksted bygger for M.R.F. Denne ferja - utan ror, og med to propellar - er noko nytt, og visseleg den første i sitt slag i Norge. M.R.F. sin styreformann, fylkesmann Erling Sandene, uttrykte si glede over at dei mekaniske verkstadane her i fylket var så konkurransedyktige at dei leverte dei lågaste tilboda, trass i at anboda gjekk ut over heile landet.
M/F Linge er bygd heilt lik i begge endar og er beregna å gå fram og tilbake mellom ferjeleia utan å snu. M/F Linge er utstyrt med 2 stk Schottel-propellar, ein i kvar ende, desse kan dreiast 360 grader og kan såleis manøvrere ferja i alle retningar. Desse kan best samanliknast med påhengsmotorar. All innreiing er utført i plastlaminerte plater med lyse trivelege fargar.
2001 Ferga går i rute mellom Arasvika - Hennset.
2008: Seld til M. Hjorteseth Shipping AS, Mathopen og fekk nytt namn "Flekko"
2017: "Fortsatt aktiv" - IMO 8881474