Sandblasting and priming
We provide prepaint surface treatment for hulls and parts, including sandblasting and water blasting. Our dock hall offers a controlled indoor environment for the painting process.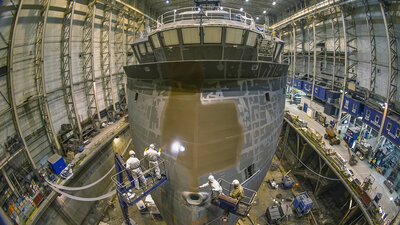 Sandblasting and priming in our covered dock hall
Sandblasting and priming are essential processes in the maintenance and refurbishment of vessels. Our covered dock hall offers enhanced safety for the vessel and workers. It minimizes the risk of accidents caused by adverse weather conditions, provides adequate lighting for better visibility, and reduces the potential for slips and falls. The controlled environment also prevents dust and abrasive materials from dispersing into the surrounding area, reducing pollution and health hazards.
Ensure that your vessel receives top-quality maintenance and refurbishment, resulting in an extended lifespan, improved aesthetics, and enhanced structural integrity.
Yard facilities
Ulstein Verft is a compact and complete shipyard to serve your needs. 
Get in touch

Martin Sundgot Hansen
Description

Sales Manager Aftermarket

Affiliation

Ulstein Verft AS

Lars Lühr Olsen
Description

Managing Director

Affiliation

Ulstein Verft AS