"We are immensely pleased to announce that we have signed a new contract with the CMHI Haimen yard for the construction of a new X-BOW expedition cruise vessel of the ULSTEIN CX103 design", states Lars Ståle Skoge, commercial director at Ulstein Design & Solutions.
Customised with bow windows
Although all the SunStone vessels in this class are designed on the same platform, being 104.4 metres long and 18.4 metres wide, they are all customised to accommodate a varying number of passengers and crews, and the public spaces are also carefully designed according to the client's request. This new vessel shares the feature of three other vessels in the INFINITY class of having windows all around the bow lounge to give a lot of light and a feeling of being in nature whilst indoors.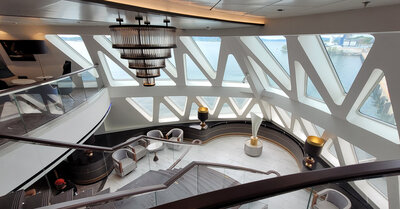 Bringing the outdoors inside
Tomas Tillberg Design is responsible for interior design.
"Our main focus is to bring the outdoors inside, capitalizing on the big windows like the two-story atrium ones and especially the spectacular FWD bow windows that Ulstein made possible thus furthering the small ship to a big ship feeling," states Tomas Tillberg.
Vessel facts
The vessel holds accommodation for 199 passengers, and a crew of 101. She is ICE CLASS 1A certified for polar cruising, holds the highest comfort class, and is SOLAS* certified including a Safe Return to Port passport.
* = The SOLAS convention regulates mandatory safety aspects for ships on international voyages such as construction, stability, machinery, electrical installations, fire safety, life-saving appliances, navigation, communications and carriage of cargo. Source: DNV