The vessel will be 92m long and 21m wide and fulfil the general demands of the seismic and oceanographic research industry for operations of seismic streamer cables, seismic bottom nodes, seismic high-resolution seafloor mapping, seafloor survey and sediment sampling.
 
The vessel will function as a base for up to 30 researchers, and will additionally, accommodate a crew of up to 20. The vessel has been designed to include a variety of installed equipment, such as a 3D/4D seismic 8-streamer system, high resolution 2D/3D seismic P-cable system, a multicomponent OBN acquisition system, a Marine Gravity and Magnetic system, Multibeam and Single beam echosounders and auxiliary equipment for in sea acoustic sounding systems. Further, the vessel incorporates a Deep Sea Chirp Sub-bottom profiler, an Acoustic Doppler Current Profiler (ADCP) and a High profile Underwater Positioning system. Sediment samplers and geochemical analysis equipment are available for the on-board researchers.
The X-BOW® hull line design leads to reduction in slamming and vibrations which makes it very suited for research operations. This design increases the operability of the vessel, reduces speed loss and will have an improved effect on recording of data when in operation. The design with its modern technology ensures efficient operations with less fuel consumption and less environmental footprint.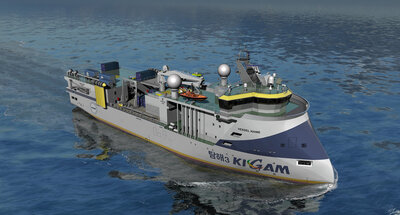 The on-board comfort is also improved:"The calmer movements in the X-BOW® vessels have a big impact on the crew's well-being", quoting the chief officer on one of Ulstein's previously delivered seismic research vessels.
 
In 1996, Ulstein' s own shipyard Ulstein Verft delivered their vessel no 246, «Tamhae II», for KIGAM.
 
"Ulstein is very proud to be awarded this contract with Hanjin and the fact that KIGAM again is selecting ULSTEIN as their supplier of design for their new vessel is important for us and confirms that our focus on optimization of design, cost effective solutions, quality and the Owner's operational & functional requirements; have given results," says Lars Ståle Skoge, Commercial Director at Ulstein Design & Solutions AS.