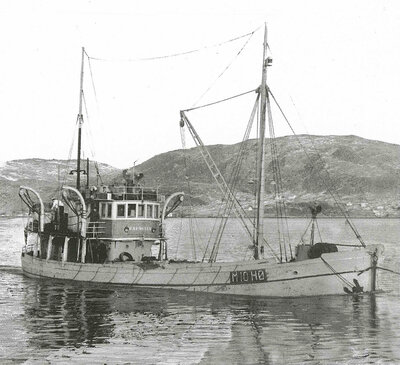 Havsulen
At an early stage, Ulstein mek. Verksted began rebuilding and lengthening wooden boats. The first big job was the repair and rebuilding of M/S "Havsulen" in 1919. The fishing vessel had been built at Onsøy in 1905 for O. Chr. Jensen, and had in 1917 been bought by the company Floor & Brødr Voldnes in Fosnavåg.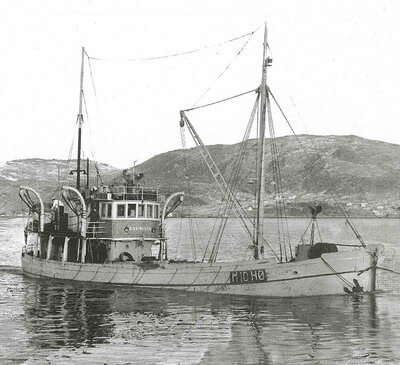 Ship history
M/S 'Havsulen', M-10-HØ, in 1953. 
The web page www.voldnes.no says the following about 'Havsulen': This was the company's second vessel, bought in 1917, and the vessel which the Ulstein Group considers as their first big task. Length of 67' 4", engine Avance 44 hp. 1938 Union 60 hp. 'Havsulen' was the first in the municipality of Herøy with echo sounder (1946), and always at the foremost vessels in various fisheries prior to the echo sounder. The boat was also used for freight traffic outside seasons. During WW2, there was a risk that the factory in Ura could be bombed, and the boat was moved to the centre of Fosnavåg. The British missed the factory, but hit the boat. The bomb exploded under the boat and it went down. No one was hurt. The boat was repaired and reentered operations. On her way to be classed, the boat capsized at Grasøyane 2 may 1960. The crew of two entered the life raft and was saved by 'Flåvær' which was in the area.
 
Shipshistorie
Sommaren 1919 fekk Ulstein oppdraget med delvis ombygging av skroget og ombygging av motoren på fiskebåten Havsulen. Motoren hadde tidlegare gir og fast propell, men vart no ombygd til reversering og vridbar propell. Dette var første oppdraget som var noko meir enn vanleg vedlikehald og reparasjon, og det ga inspirasjon til ny innsats og større oppgåver. Båten var bygd på Onsøy i 1905 for O. Chr. Jensen, og vart kjøpt av reiarlaget Floor & Brødr Voldnes i Fosnavåg. Firmaet Voldnes var sidan ein god og trufast kunde gjennom lang tid.
 
Nettsida www.voldnes.no fortel om båtane i Voldneskonsernet:
 
M/KR "Havsulen". Dette var det andre fartøyet i verksemda innkjøpt alt i 1917. Dette er også den båten som Ulsteinkonsernet reknar som sitt første store oppdrag og starten på sitt konsern, i det dei (Martin Ulstein) foretok ei større ombygging av båten. "Havsulen" var bygd på Onsøy i 1905, 67,4 fot, motor Avance 44 hk. 1938 Union 60 hk. "Havsulen" var første båten i Herøy med ekkolodd (1946), og alltid av toppbåtane i ulike fiskeri også før ekkoloddet. Båten vart også nytta til fraktfart for verksemda utanom sesongen.
Under krigen var det fare for at fabrikken i Ura skulle bli bomba og båten vart då flytta ut til sentrum av Fosnavåg. Engelskmennene bomma på fabrikken men traff båten som låg i sentrum. Bomba eksploderte under den og den sokk. Ingen vart skada. Båten vart reparert og satt i drift. På veg til klassing i Romsdalen forliste båten ved Grasøyane 2/5 1960. Mannskapet på 2 gjekk i flåta og vart redda av "Flåvær" som var i området.