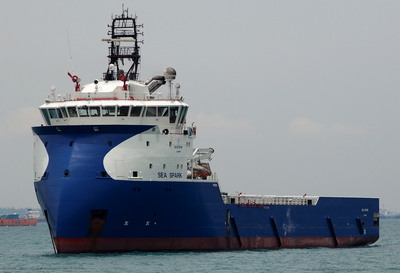 Sea Spark (Spark Tide)
New name: Spark Tide. Platform supply vessel of the large and proven PX105 design. The loading deck area is in excess of 1,000 square metres and the vessel has a load capacity of 4,700 tonnes.
Note: Specifications may have changed since the original completion date.
Classifications:
DNV+1A1,
SF,
E0,
DYNPOS-AUTR,
CleanDesign,
COMF-V(3),
LFLFuelled,
DK(+),
HL(+),
ICE-C,
NAUT-OSV
Ship history
The Zhejiang yard, a part of the Sinopacific Group, delivered twelve ULSTEIN designed vessels to Deep Sea Supply during 2013 and 2014.
The vessels are constructed for operations all over the world. "We are very pleased with the vessels - and so are our clients", stated Finn Amund Norbye, CEO in Deep Sea Supply. "ULSTEIN participated in the vessels' construction and was also responsible for the electrical installations. Communication and quality of work have been good. We have taken delivery of twelve large state-of-the-art platform supply vessels in approx. 18 months, which must be considered to be very satisfactory." The X-BOW® hull line design eliminates slamming from head sea, increases comfort and safety and reduces fuel consumption.
In addition to the basic design, ULSTEIN delivered a comprehensive package of systems and equipment as well as on-site support. ULSTEIN's equipment deliveries include diesel electric propulsion and engines, and the system deliveries include power distribution and propulsion, automation, internal communication and entertainment, navigation and radio. The vessels were among the first in which ULSTEIN had the switchboards produced at their own company in Ningbo, reducing delivery time due to shipment.
Ships delivered:
Milestones
2017: All vessels in the DESS fleet were merged into the Solstad Farstad fleet. From 1 October 2018, this company changed named to Solstad Offshore.
2023: Sea Spark has been sold to Tidewater and change name to Spark Tide.