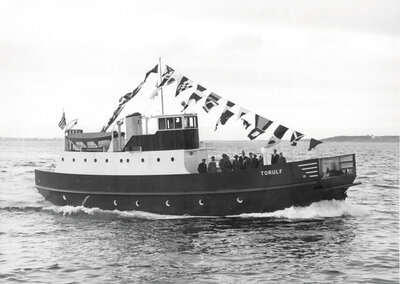 Yno 11U - Torulf
Built in 1957, yard number 11, 'Torulf', was the first steel vessel built at Ulstein mek. Verksted, and was built from scratch. The ferry could carry 10 cars and 99 people.
Lengde/length: 76' 2" (23,8 m) 
 
Bredde/beam: 22' 4" (6,80 m) 
 
Brutto tonnasje/gross tonnage: 99 tonn/tonnes 
 
Fart/Speed: 10 knop/knots 
 
Hovedmotorar/Main engines: Volvo Penta x 2 
 
Effekt/effect: 232 Hk/Hp 
 
Skipstype/ship type: Bil/passasjerferge - car/passenger ferry
 
Antal passasjerar/number of passengers: 99
 
Antal bilar/number of cars: 10
 
Andre skipsnamn/other ship names: "Valsøy", "Nårasund", "Solund Havbrukssenter", "Hector"
Ship history
Built for shipowner A/L Torulf. 
Lady sponsor was Mrs Rolf Ervik, her husband was chairman at A/L Torulf.
1957 First steel vessel from Ulstein Mek. Verksted. 
1967 Sold to Møre og Romsdals Fylkesbåtar (MRF) for NOK 415.000,- and renamed "Valsøy". 
1971 New wheelhouse installed
1979 Sold to Fylkesbåtane in the county of Sogn og Fjordane (FSF) and renamed "Nårasund". 
1992 Sold to Solund Havbrukssenter, Florø, renamed "Solund Havbrukssenter". 
2000 Bought by a private person as accommodation for students, moored at Storkaia in Molde, One engine is out of work, the galley has been altered for more space, the salon is still as it was from the start. Renamed "Torulf", the original name.
During the naming ceremony in 1957, the champagne bottle was not broken, and it fell into the slip where one of the workers, Leif Breivik, was standing. He grabbed the bottle and threw it after the newbuild, which was already on the move. In that way, Leif became the true 'godmother' to 'Torulf'.
 
Skipshistorie
B.nr. 11U - Byggeår 1957. Rederi: A/L Torulf. Gudmor var fru Rolf Ervik, mannen hennar var styreleiar i A/L Torulf.
Bygd ved Ulstein Mek. Verksted A/S. 'Torulf' er byggenummer 11, men er endå meir eit pionerarbeid enn nummeret skulle tilseie. Ho er starten på den sjølvstendige skipsbygginga ved Ulstein, og ho er det første stålfartyet som vert bygd ved verkstaden.
Frå lokalavisa 'Vikebladet' ti år seinare:
"Jubileumsåret 1957 (40-årsjubileum for Ulstein Mek. Verksted) var markert ved at verkstaden bygde bilferja 'Torulf'. Denne vart levert 6. august og var utstyrt med propellanlegg frå verkstaden, og ein kan vel seie at båten gav verkstaden eit renomé, som fekk verknad. Året etter bygde ein B/F 'Rovdehorn' til MRF."
1957 Dette var den første båten bygd i stål ved Ulstein Mek. Verksted. 
1967 Seld til Møre og Romsdals Fylkesbåtar (MRF) for kr. 415.000,- Den fekk namnet "Valsøy". 
1971 Ferga fekk nytt styrehus. 
1979 Seld til Fylkesbåtane i Sogn og Fjordane (FSF) og fekk namnet "Nårasund". 
1992 Seld til Solund Havbrukssenter, Florø. Namnet er no "Solund Havbrukssenter". 2000 Kjøpt av en Sunndaling som hybelskip for studentar, ligg ved Storkaia i Molde. Den eine motoren er kaputt, byssa er forandra for å få meir plass. Salongen er slik den var frå starten. Båten fekk tilbake det gamle namnet "Torulf". Dei første hovudteikningane som var nødvendige for å få godkjent nybygget, fekk ein hjelp til å utarbeide av Alf Tveten i Det Norske Veritas, Ålesund. Både folk i Skipskontrollen og Veritas hjelpte rett som det var verkstadene i gang med slike prosjekt i den tida. Elles var ferja bygd med verftet sine eigne ressursar. 'Torulf' er den første ferja i Noreg med motoranlegg med kilereimsdrift. Ho vart utgangspunktet for ein heil serie av liknande ferjer bygd på Ulstein mek.
Namnet 'Torulf' er ei samandraging av Torvik og Ulfstein (ein eldre skrivemåte for Ulstein), eit høveleg namn på ei ferje som skulle trafikkere strekninga Torvik - Ulsteinvik. For verkstaden i Ulsteinvik var 'Torulf' ei forsikring om at den makta ein fullstendig byggeprosess frå teiknebrett til sjøsetting.
Ei ferje er eit spesialfarty. Sånn sett vert 'Torulf' den første spede start for seinare bygging av spesialskip.
Under dåpen av Torulf hadde arbeidaren Leif Breivik akkurat brent av det siste jernstaget som heldt ferja fast. Ferja byrje å sige i det gudmora kasta sjampanjeflaska, men snora slitna, og flaska gjekk i slippen utan å bli knust. Leif kneip tak i struten og kylte flaska etter ferja, dermed vart Leif den eigentlege gudmora for 'Torulf'.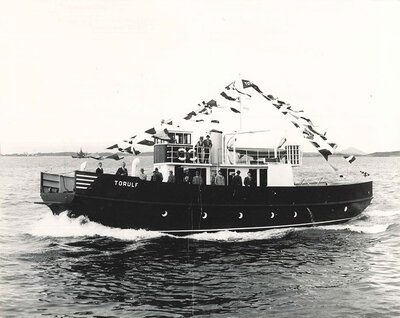 Byggenummer 11, bilferja 'Torulf', på dåpstur på Valderhaugfjorden ved Ålesund i 1957. 
Yno 11, the ferry 'Torulf', on the naming trip on the Valderhaug fjord near Ålesund in 1957.