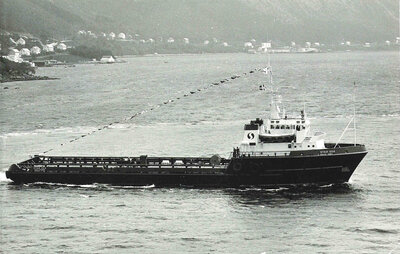 Yno 131 - Stad Sea
In 1974, Sverre Farstad & Co ordered the first offshore vessel of the UT704 type from Ulstein Hatlø yard, division Ulstein. With the UT704 design, Ulstein entered the oil business for real. A large number of vessels in the UT700 series (offshore vessels) were constructed at Ulstein Hatlø during the 1970s and 1980s.
Lengde/length: 64,55 m

Breidde/beam: 13,83 m


Brutto tonnasje/gross tonnage: 496 tonn/tonnes


Dødvekt/dead weight: 1200 tonn/tonnes


Fart/speed: 16 knop/knots


Hovedmotorar/main engines: 2 Nohab Polar Diesel - totalt 7040 Hk/Hp


Skipstype/ship type: Ankerhandtering/Forsyningsskip - anchorhandling/supply vessel


Skipsdesign/ship design: UT 704


Andre skipsnamn/other ship names: "Far Sea", "Red Falcon", "Seabulk Falcon II", "Butler Falcon"


Ship history
Yno 131, constructed 1975. UT 704 Supply Vessel. Shipowner: Stad Shipping, Ålesund. Constructed at Ulstein Hatlø A/S dept Ulstein.
Lady sponsor (godmother): Marit Krohn Ulstein. Date of naming: 7 June 1975
After the first vessel was delivered, several types of supply vessels were constructed at Ulstein Hatlø, vessels specifically designed for transporting pipes, cement or other building materials, and also vessels that could combine tasks.
1983 Re-registration to I/S Stad Platou (Sverre Farstad & Co), Ålesund. Renamed 'Far Sea'
1987 Renamed 'Red Falcon'
1998 Renamed 'Seabulk Falcon II'. Owned by Seabulk Falcon II Inc., and registered in Majuro, Marshall Islands
2008: Renamed "Butler Falcon"
2017: "Active" - IMO 7400780.Owned by Butler Nigeria, Lagos, Nigeria. Flag: Lagos, Nigeria


Skipshistorie
B.nr. 131 - Byggeår 1975. UT 704 Supply Vessel. Rederi: Stad Shipping, Ålesund. Bygd ved Ulstein Hatlø A/S avd. Ulstein. Gudmor: Marit Krohn Ulstein. Dåpsdato: 7. juni 1975
Det var Sverre Farstad & Co som i 1974 bestilte det første forsyningsskipet av typen UT704 frå Ulstein Hatlø. Også i utlandet vart UT704 bygd ved at verfta der betalte for lisensrettane. Med UT704 kom Ulstein for alvor inn i oljebransjen. Mange fleire typar forsyningsskip vart konstruerte og bygde på Ulstein Hatlø i åra som kom, båtar spesielt berekna på å frakte rør eller tenkt til transport av sement eller anna byggematerial, og gjerne båtar som kunne kombinere fleire oppgåver. Det vart bygd ei rekkje fartøy i UT700-serien (offshorefartøy) ut over på 1970- og 80-talet. 1983 Omregistrert til I/S Stad Platou (Sverre Farstad & Co), Ålesund. Fekk nytt namn "Far Sea". 1987 Båten fekk nytt namn "Red Falcon". 1998 Båten fekk nytt namn "Seabulk Falcon II". Båten er no eigd av Seabulk Falcon II Inc. og er registert i Majuro, Marshall Islands.
2008: Nytt namn "Butler Falcon"
2017: Fortsatt aktiv - IMO 7400780. Eigar og driverselskp er Butler Nigeria, Lagos, Nigeria. Flagg: Lagos, Nigeria