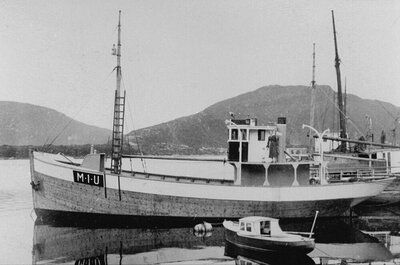 Yno 1H - Hod
'Hod' was the first boat built from scratch in the municipality of Ulstein, and pioneering work when it comes to shipbuilding in this district. The fishing vessel 'Hod' was build number 1 at Hatlø Verksted (later Ulstein Hatlø), and was built in 1936 for Peter Volle, Hans Haddal and Sverre Løseth.
Lengde/length: 65' 1'' (19,8 m)
Breidde/beam: 17' 6'' (5,0 m)
Brutto tonnasje/gross tonnage: 40 tonn/tonnes
Dødvekt/dead weight: 41,86 tonn/tonnes
Fart/Speed: 8,7 knop/knots
Hovedmotor/main engine: Union
Effekt/effect: 60 Hk/Hp
Skipstype/ship type: Motorkutter/motor fishing vessel
Ship history
The boat, which was designed by Leif Hatlø, managing director at Hatlø Verksted at the time, played a part in the Second World War. A group fleeing from the Germans took the boat and set out for England on the evening of 25 August 1941. Since then, nobody has seen it. It was probably bombed by German patrol planes approximately 60 nautical miles from shore. Out of the group of about 20 people, only the body of a woman was found drifting in the sea outside the island of Løvsøya. Hod's registration plate and some parts from the ship were later found, but this never provided an answer to what had happened.
Skipshistorie
B.nr. 1H - Byggeår 1937. Fiskebåt/motorkutter. Rederi: Peter Volle, Hans Haddal, Sverre Løseth. Bygd ved Hatlø Verksted. 'Hod' var den første båten som vart bygd frå grunnen av i Ulstein kommune, og ein kan såleis seie at dette var eit pionerarbeid når det gjeld skipsbygging i vårt distrikt.

Båten var konstruert av Leif Hatlø som då var driftsstyrar på Hatlø Verksted, og har ei interessant krigshistorie. Båten gjorde sine turar i kyst- og havfiske fram til han vart teken av ei gruppe politiske flyktningar som var på røming frå tyskarane og stakk ut frå Ulsteinvik med kurs for England kvelden 25. august 1941. Sidan har ingen sett han, truleg vart han bomba i senk av tyske patruljefly som gjekk langs kysten om lag 60 kvartmil av land. Av gruppa på om lag 20 personar vart berre liket av den eine av dei, ei kvinne, funne drivande i sjøen ved Løvsøya. Også Hod sitt registreringsnummer og nokre vrakrestar vart seinare funne, utan at dette kunne gi svar på kva som hadde hendt.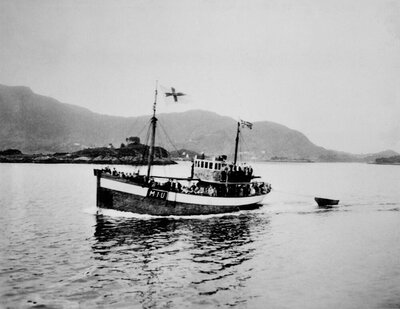 'Hod' på veg heim frå losjetur.
'Hod' returning home from an excursion.