Yno 209 - Helga II
Yard no 209 built 1988 by Ulstein Hatlø AS, Norway for Ingimundur H.F., Iceland.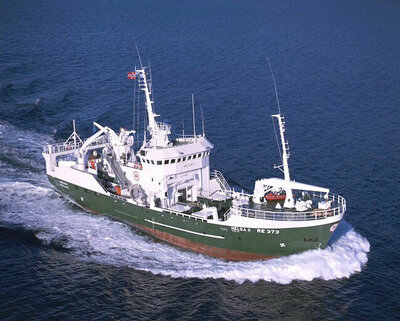 CLASSIFICATION
The Vessel is designed by Skipsteknisk AS and Ulstein Trading Ltd. AS in co-operation, and built at Ulstein Hatlø Yard, division Ulstein, to Det norske Veritas Class +1A1 - Fishing Vessel - Stern Trawler - S - Ice C, and to the satisfaction of the rules and regulations of the Siglingamalastofrun Rikisins (Icelandic Maritime Directorate).
The vessel is a combined purse seiner/stern trawler. It is intended for catching prawns by trawling and herring/ capelan by purse seining under severe conditions in Icelandic waters.
MAIN DIMENSIONS
Length over all: 57,45 m
Length between p.p: 49,00 m
Moulded breath: 12,50 m
Moulded breath: 12,50 m
Moulded depth to main deck: 5,25 m
Moulded depth to shelter deck: 7,75 m
Max. draft: 6,50 m
TANK CAPACITIES
Fuel oil appr.: 350 m3
Fresh water appr.: 50 m3
Ballast water appr.: 70 m3
Hold capacity for fish in bulk appr.: 960 m3
Freezing room capacity appr.: 400 m3
SPEED AND PULL
Speed at ballast draft: 14 knots
Bollard pull: 43 tonnes
TECHNICAL DATA
BERGEN DIESEL Main Engine Type BRM-6
1 x 2205 kW - 750 rpm
ULSTEIN gear box 1500 AGSC with two-speed PTO
ULSTEIN Propeller Nozzle
ULSTEIN High Lift Flap Rudder
TENNFJORD Steering Gear
ULSTEIN Bow Thruster 1 off 90 TV - 500 HP
ULSTEIN Stern Thruster 1 off 90 TV - 500 HP
ULSTEIN Passive Stabilizing Tank System
Shaft generator
Leroy Somer 1500 kVA - 1500 rpm
Aux. engines - Make Cummins
KTA-19-G2 331 kW at 1500 rpm
Generators: Leroy Somer 400 kVA at 1500 rpm
NORWINCH Trawl Winches 2 x 30,5 tonnes
NORWINCH Sweep winches 4 x 9,7 tonnes
NORWINCH Gilson winches 2 x 9,7 tonnes
NORWINCH Outhaul winch 1 x 5.9 tonnes
NORWINCH Cod end winch 1 x 5,6 tonnes
NORWINCH End wire winch 1 x 9,7 tonnes
Purse Net Winch, net stacker etc. Triplex
Deck Crane 1 x 5 t Hydralift
1x 2,5 t Hydralift
Fishpump: RAPP
ACCOMMODATION
For 23 persons in 5 single and 9 double cabins.
ELECTRONIC EQUIPMENT
Radar A: Atlas Rasterscan type 7600 AC/TMS
Radar B: JRC type JMA 3710-6
Plotter for do.: JRC type NWU-51
Echo sounder A: Atlas type 872
Echo sounder B: JRC type JFU-216 colour
Sonar: Kaijo Denki type DCS-220
Radio Direction Finder: Kodnes KS 11 MK 2
Loran C: 2 x Raynav type 750 MK
Gyro compass: Roberson/Plath type RPG-90
Autopilot: Robertson type AP-9 MK
Speed Log: Sagem el.magnetic type LHS
Radio Station: Sailor R 501
VHF Radio Telephone Sailor RT 2047
Catch Control: Scanmar
PROCESSING FACTORY FOR PRAWNS:
Manufacturer Camitech
Processing equipment for sorting, cooking, freezing and packing of prawns. In addition, a processing line for "Japan" prawns is installed.
Freezing tunnel capacity 15 tonnes per 24 hours
Plate freezing capacity: 2 off a 15,2 tonnes per 24 hrs.
Manufacturer of refrigeration compressors, plate freezers etc.: Kværner.
Ship history:
Other shipname: "Thorsteinn", "Tuneq"
1995: Renamed "Thorsteinn"
2014: Renamed "Tuneq"
2017: Still active - IMO 8709860. Owner's Royal Greenland, Nuuk, Grønland. The ship is operated by Nataaqnaq Fisheries, Saint John in Canada and is registered in Greenland.
Historie:
Andre skipsnamn: "Thorsteinn", "Tuneq"
1995: Nytt namn "Thorsteinn"
2014: Nytt namn "Tuneq"
2017: Fortsatt aktiv - IMO 8709860. Eigar er Royal Greenland, Nuuk, Grønland. Båten vert drifta frå Canada av Nataaqnaq Fisheries, Saint John, Canada og er registrert på Grønland.