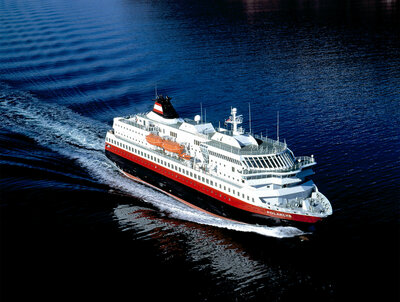 Yno 223 - Polarlys
Delivered to Troms Fylkes Dampskipsselskap in March 1996. The yard had delivered several passenger vessels earlier, including the coastal passenger vessel 'Midnatsol' for the same shipowner in 1982. However, 'Polarlys' marked a shift toward a more luxurious and modern cruise market with high standards and comfort.
Ship history
On 23 March 1996, several thousand people were gathered at the two Ulsteinvik yards on occasion of a double naming ceremony for two new 'Hurtigruten' vessels. HRH Queen Sonja was naming the 'Nordkapp' at Kværner Kleven, while the Governor of Svalbard, Ann Kristin Olsen, named the 'Polarlys' at Ulstein Verft. When the two vessels left Ulsteinvik, they sailed together with a third 'Hurtigruten' vessel, the 'Nordnorge', and an armada of more than 100 private boats. The 'Polarlys' was for years also known as the 'jewel case' due to the high-standard interior.

The construction of passenger vessels at Ulstein commenced when converting the M/S 'Romsdal' in the early 1960s. The 'Polarlys' and 'Midnatsol' vessels were built to the series of 'Hurtigruten' vessels, a brand name renowned for transporting freight and passengers along the Norwegian coast between Bergen and Kirkenes.
The following brief outline specification describes a Passenger/Cargo Vessel for operation on the Norwegian coast on a regular service.
2006: Troms Fylkes Dampskibsselskap (TFDS) was merged with Ofoten and Vesteraalens Dampskibsselskab (OVDS) and formed Hurtigruten Group and later changed to Hurtigruten ASA
February 2016: The accommodation was rebuilt by Fosen Yard. Deck 4, 5, 6 and 7 and the reception area on deck 3 was totally renewed.
2017: Still active - Owner and manager: Hurtigruten, Tromsø, Norway. Flag: Norwegian.

Skipshistorie
Den 23. mars 1996 var det stort folkeoppmøte i Ulsteinvik, med dobbeltdåp av to hurtigruter ved kvart av dei to verfta i bygda. Medan sysselmannen på Svalbard, Ann Kristin Olsen, døypte hurtigruta Polarlys på Ulstein Verft, døypte dronning Sonja hurtigruta Nordkapp på Kværner Kleven. Då dei to hurtigrutene drog frå Ulsteinvik, vart dei følgde av ei eldre hurtigrute, Nordnorge, og ein armada med over 100 småbåtar. Det vert rekna med at om lag 7000 personar var til stades for å få med seg ein av dei to dåpane. Det vart deretter ei historisk trafikkork ut til Flø, der folk kunne sjå hurtigrutene for siste gong.
Bygginga av passasjerskip starta i Ulstein med ombygginga av M/S Romsdal tidleg i 1960-åra. Verftet bygde også eit anna hurtigruteskip, 'Midnatsol', i 1982. Likevel markerte 'Polarlys' eit skifte mot ein meir luksuriøs og moderne cruisemarknad med høg standard og komfort.
På folkemunne vart Polarlys etter kort tid omtalt som 'smykkeskrinet', som følgje av fargesamansetningar og utsmykking om bord. Nordiske helleristingsmotiv blei valde som gjennomgangstema i tekstilar og veggar, og passasjerareala vart utsmykte med over 100 kunstverk og dekorasjonar. Målet var å vise fram eit tverrsnitt av norsk samtidskunst.
2006: Troms Fylkes Dampskibsselskap (TFDS) blei slått saman med Ofoten og Vesteraalens Dampskibsselskab (OVDS) og danna Hurtigruten Group og seinare vart dette endra til Hurtigruten ASA
Februar 2016: Fosen Yard bygde om innreiinga. Dekk 4, 5, 6 og 7 og resepsjonsområdet på tredje dekk blei totalrenovert.
2017: Framleis aktiv - Eigar og drivarselskap: Hurtigruten, Tromsø, Noreg. Flagg: Norsk.
MAIN DIMENSIONS / HOVUDDIMENSJONAR
LOA approx 123,00 m
LPP 105,00 m
Breadth mld. 19,50 m
Draft design 4,70 m
Draft max. 4,90 m
PERFORMANCE
Speed service approx 18 knots
CAPACITY
Passengers (International voyage) 480
Day passengers (Short international voyage) 737
Cars - Approx 50
MACHINERY
Number of engines 4 x Ulstein Bergen
Engine output totally 11260 kW
Two off Aux. generators set 1550 kW each
Two off Shaft generators 1600 kW each

PROPULSION/MANOEUVRING
Two Main propellers 3600 kW each
One Stern hinged thruster 880 kW
Two Bow thrusters 600 kW each
IMO number: IMO 9107796