Yno 246 - Tamhae II
A seismic survey vessel designed by Ulstein International. Yard number 246, built 1996 by Ulstein Verft AS. Owner: KIGAM (Korea Institute of Geology, Mining and Materials), Korea. This is the first vessel to combine three-dimensional seismic surveying with seabed sampling.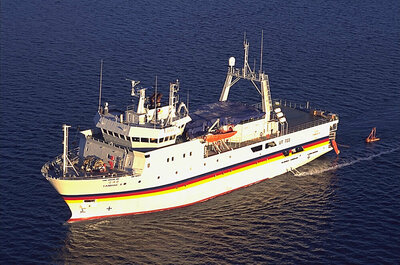 Text from Ulstein internal magazine, year-end 1995: The vessel builds on Ulstein International's experience from a series of six vessels built for Western Atlas in 1991-93. This reference helped the group to win the Korea contract. In addition to seismic and sampling, the newbuilding will be used to compile topographic maps of the seabed. These are plotted in colour from data recorded by sonars in the ship's bottom. The charts will tell geologists on board about seabed contours and the hardness of sediments.
Length / Lengde: 64.40 m


Beam / Breidde: 6.50 m

Gross tonnage / Brutto tonnasje: 2085 tonn

Deadweight / Dødvekt: 1113 tonn


Speed / Fart: 14.5 knots/knop


Accommodation / Besetning: 36 people/personar


Vessel type / Skipstype: Seismic/Seismikk


Ship design / Skipsdesign: UT 723
HISTORY:
2017: Still active - IMO 9131175. Owner and operator: Korea Institute of Geoscience, Daejeon, South Korea. Flag Jinhae, South Korea.