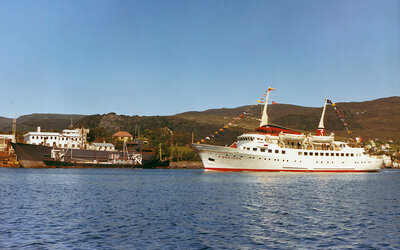 Yno 26U - Poseidon
Delivered in 1964, 'Poseidon' was the first passenger vessel for Stena Line. This was a major task for Ulstein mek. Verksted. The vessel´s first planned assignment was to transport the First Secretary of the Communist Party of the Soviet Union, Mr. Nikita Khrusjtsjov, and his family from Uddevalla to Gothenburg.
Lengde/length: 65,50 m


Breidde/beam: 11,40 m


Brutto tonnasje/gross tonnage: 1363 tonn/tonnes


Fart/speed: 16,25 knop/knots


Hovudmotor/main engine: Deutz Diesel


Effekt/effect: 2640 Hk/Hp


Skipstype/ship type: Passasjerskip/passenger vessel


Antal passasjerar/number of passengers: 600


Andre skipsnamn/other ship names: "Poseidon IV", "Pearl Cruse II"


Ship history
Yno 26U, built in 1964 for Stena Line, Sweden. Built at Ulstein mek. Verksted AS. Even though the shipbuilding contract was not very lucrative, the task was considered so important that the lines of the vessel were engraved on the glass entrance to the yard administration, next to the Ulstein logo. It was a major task for the company, and the naming ceremony was a big attraction. The vessel´s first planned assignment was to transport Mr. Nikita Khrusjtsjov and his family on a cruise. If the yard workers managed to complete the vessel on time, they were promised a bonus. They managed, and each received a bonus of approx NOK 300-500.
However, Mr. Khrusjtsjov never attended the cruise.
1964: New name "Poseidon IV"
1965: Entered the route Trelleborg - Copenhagen
1966: Entered the route Stockholm - isles of Åland
1972: Chartered by Brittany Ferries for the route Plymouth - Roscoff in the English Channel
1973: Sold to Holland
1974: Sold to Germany, shipowner Seetouristik in Hamburg
1983 - 84: At year's end, 'Poseidon' was through a large conversion at a German yard
1986: Entered the route Vlissingen (Holland) - Zeebrügge (Belgium)
2000: (June) Got back the name "Poseidon"
2000: (Aug) Got back the name "Poseidon IV"
2003: New name "Pearl Cruse II"
2006: Sold for scrapping to India - IMO 6412920
Skipshistorie
B.nr. 26U - Byggeår 1964. Rederi: Stena Line, Sverige. Bygd ved Ulstein mek. Verksted A/S.
'Poseidon' var det første passasjerskipet til det kjente Stena-Line. Det var ein økonomisk dårleg kontrakt for UMV, men sett på som så viktig at ei teikning av båten vart rissa inn ved sidan av UMV-logoen på glasdøra inn til verftsadministrasjonen. Dåpsseremonien var ei storhending med stort publikumsframmøte.

Det første planlagde oppdraget til skipet var å frakte Sovjetunionen sin statsminister Nikita Khrustsjov med familie frå Uddevalla til Göteborg på eit skjergardscruise. Dersom verftsarbeidarane greidde å få båten ferdig i tide, skulle dei få bonus. Det greidde dei, og bonusen var på mellom 300 og 500 kroner. Det vart likevel aldri noko av skjergardscruiset.

Alle teikningane til innreiingsskotta var teikna på smørpapir, og dette var originalane som arbeidarane måtte bygge etter.
1964: Nytt namn "Poseidon IV"
1965: Sett inn på linja Trelleborg - København
1966: Sett inn i ruta mellom Stockholm og Ålandsøyane
1972: Chartra av rederiet Brittany Ferries til linja Plymouth - Roscoff i Den engelske Kanal
1973: Seld til Holland
1974: Seld til Tyskland ved rederiet Seetouristik i Hamburg
1983 - 84: Ved årskiftet gjennomgikk 'Poseidon' ei stor ombygging ved eit verft i Tyskland
1986: Vart sett i fart mellom Vlissingen i Holland og Zeebrügge i Belgia
2000: (Jun) Fekk tilbake namnet "Poseidon"
2000: (Aug) Fekk tilbake namnet "Poseidon IV"
2003: Nytt namn "Pearl Cruse II"
2006: Solgt til opphugging i India - IMO 6412920