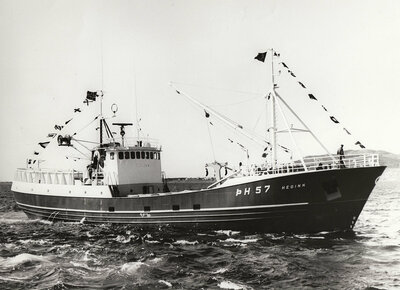 Yno 40 - Hedinn
The internationalisation at Ulstein Verft started with the construction of fishing vessels to the Faroes and Iceland. 'Hedinn' was delivered in 1966, and was innovative in that it had refrigerated cargo tanks. It was also the first vessel to which Ulstein designed and delivered thrusters.
Lengde/length: 42,06 m


Breidde/beam: 8,60 m


Brutto tonnasje/gross tonnage: 330 tonn/tonnes


Fart/speed: 13 knop/knots


Hovedmotor/main engine: 800 Hk/Hp


Skipstype/ship type: Fiskebåt/fishing vessel


Andre skipsnamn/Other ship names: "Hrafn GK", "Háberg GK", "Geirfugl"
Skipshistorie
B.nr. 40U - Byggeår 1966. Rederi: Br. Hreifi hf, Island. Bygd ved Ulstein mek. Verksted AS.

1971 Båten blei forlenga til 47,74 m
1975 Båten blei seld til Þorbjörn Fiskanes hf i Grinadavik
1977 Båten blei overbygd i Haugesund og fekk sett inn ein ny sidepropell akter. Den opphavlege baugpropellen som Ulstein monterte, blei oppgradert frå 120 Hk til 250 Hk
1980 Båten fekk ny Caterpillar hovudmotor på 1141 Hk og montert ny bro
1986 Båten blei seld til Fiskimjöl og Lysi hf i Grindavik og fekk namnet "Háberg"
1999 Båten blei igjen seld til Þorbjørn Fiskanes hf og fekk namnet "Geirfugl"
2001 Båten har framleis same innreiing, bysse og lugarar, og same baugpropell som då båten vart bygd.
2004 Eigar er fortsatt Þorbjørn Fiskanes hf
Internasjonaliseringa ved Ulstein starta ved at verftet tok til å bygge linebåtar for Færøyane og seinare snurpebåtar og trålarar til Island. Ulstein designa sine første thrusterar til 'Hedinn'. Fiskebåten var ei nyvinning ved at han også hadde kjølte lastetankar.

Ulstein mek. Verksted hadde produsert og vedlikehaldt propellar frå 1919. Dette var små propellar i samband med reparasjonsarbeid. Først på 1960-talet starta produksjon av større propellar. Ulstein Propeller starta opp i 1965 for å utvikle og selje nye propelltypar tilpassa Volvo-motorane. Produksjonsbreidda utvikla seg raskt.

Tidlegare konsernsjef Idar Ulstein fortel: - Eg var på Island og skulle forhandle om ein ny båtkontrakt. Vi fekk då kontrakt på fiskebåten Hedinn, og reiarlaget ville ha thrusterar. Islandske fiskebåtar hadde på det tidspunktet allereie fått introdusert thrusterar frå USA og Tyskland. Når reiarlaget spurde meg etter thrusterar sa eg at - ja, det kan vi levere! - men vi hadde ikkje produsert thrusterar tidlegare og hadde difor ikkje teikningar til å produsere dette. Så fòr eg heim og vi starta å designe thrusterar.
Thrusterar er ein spesiell type propell som blir nytta ved manøvrering. Dei kan vere innfelte i skroget, festa på ein dreibar sokkel under skroget, eller vere oppsvingbare. Med thrusterar kan store skip navigere i vanskelege farvatn, legge til kai utan slepebåtar, eller halde ein fast posisjon til havs med dynamisk posisjonering.
Ship history
Yno. 40U - Delivery 1966. Shipowner: Br. Hreifi hf, Island. Built at Ulstein mek. Verksted AS.
1971 The vessel was lengthened to 47.74 m
1975 Sold to Þorbjörn Fiskanes hf in Grinadavik
1977 Conversion in Haugesund included a new side propeller aft. The original bow propeller installed by Ulstein was upgraded from 120 Hp to 250 Hp
1980 Installed new Caterpillar main engine of 1141 Hp and new wheelhouse
1986 Sold to Fiskimjöl og Lysi hf in Grindavik and renamed 'Háberg'
1999 Sold to Þorbjørn Fiskanes hf and renamed 'Geirfugl'
2001 The vessel still has the same interior, galley and cabins and the same bow propeller as in 1971
2004 Still owned by Þorbjørn Fiskanes hf
Ulstein mek. Verksted had been manufacturing and maintaining propellers since 1919. Originally, these were small propellers for use in connection with maintenance work, and it wasn't until the 1960s that production of larger propellers began. Ulstein Propeller was founded in 1965 to develop and market new propeller types suitable for use with Volvo engines. The range of products developed rapidly.
Former CEO Idar Ulstein comments: "I was in Iceland to negotiate a new boat contract. We were awarded the contract for the fishing boat "Hedinn", and the shipping company wanted thrusters. At that time, American and German thrusters had already been introduced on Icelandic fishing boats. When the client asked for thrusters I replied, "Yes, we can supply those!" ? but we hadn't produced thrusters before and hence had no drawings to use. So I went back home and we started to design thrusters."
Thrusters are a special type of propeller unit used for manoeuvring. They can be built into the hull or mounted on a rotating platform under the ship, or they can be retractable. Using thrusters, large vessels can navigate in difficult waters, berth at quays without the help of tugboats, or maintain a fixed position at sea using dynamic positioning.