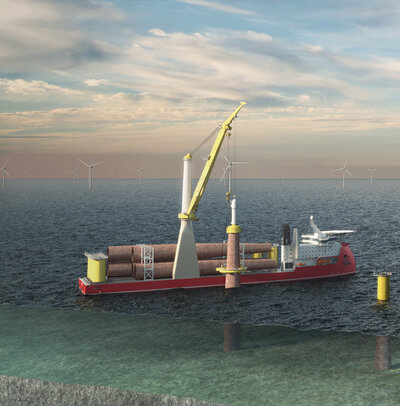 HX118
The ULSTEIN HX118 heavy lift crane vessel design is the successor to the successful and proven ULSTEIN SOC 5000 design, with the primary markets offshore wind foundation installation and oil & gas decommissioning. The vessel offers a well-balanced combination of payload, flush work deck area and lifting capacity.
Primary Specifications
Accommodation
150 - 200 POB
Additional Data
Propulsion thrusters
4 x 3,500
Retractable thrusters
2 x 3,000
Tunnel thrusters
2 x 3,000
Main gen sets (dual fuel)
4x 7,500
Project space/cargo hold
1,100
Note: Subject to selected variant configuration
Together with its powerful DP2/DP3 system and mooring capability, the vessel meets the market demand for CAPEX-friendly, yet flexible future-proof assets that can handle XL monopiles and jacket foundations.
Positioning system: DP2/DP3, 8-point mooring
Alternative fuel prepared (methanol/ammonia/hydrogen)
Mission equipment
Main crane, typically 5,000 mT @ 36 m TMC with foldable A-frame

Main hook: Dual main hoist
Main hook height (above deck): 125 m