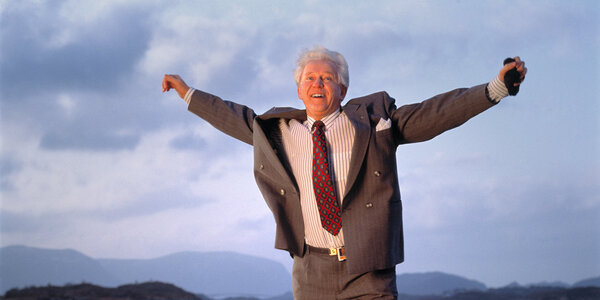 Idar Ulstein - the history of Ulstein
The late Idar Ulstein, youngest son of Martin Ulstein who founded Ulstein Mek. Verksted, formed the modern Ulstein Group. He started to work in Ulstein as a 14-year-old after his father's sudden death in 1948, and was a central part of the company until he died in 2012. Here's his story.
Ulstein mek. Verksted
This is an interview with Idar Ulstein in 2007 concerning the Ulstein Group's 90th anniversary. Idar Ulstein passed away in 2012.
Ulstein mek. Verksted, founded by Martin Ulstein and Andreas Flø on 9 August 1917 in Ulsteinvik, Norway, started business as a small, mechanical workshop. One hundred years later, the company employs approx. 700 people in 6 countries, with the business areas ship design, shipbuilding, power & control and ship investments.
"Throughout the history of the company, there has been a tradition of meeting the changes that progress brings in a constructive manner. We have had a wish to expand in order to come into contact with more customers, and at the same time have a greater breadth in the provision of expertise from outside the company", says Idar Ulstein.
Ulstein mek. Verksted was established due to a revolution which took place in the early 1900s, the switch from sail to engines. These engines had to be installed, maintained and repaired. The business primarily concerned repairs and, later, major rebuilds of wooden vessels, particularly fishing vessels. Right from the beginning, the workshop machined propellers and propeller controls, many years before the company began the in-house design of propellers.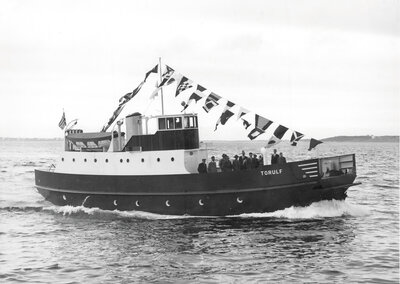 The ferry Torulf introduced the steel building era at Ulstein mek. Verksted in 1957.
In 1957, there was a new revolution in production. This occurred when Ulstein mek. Verksted built the first steel vessel, a ferry named Torulf. A new coastal revolution in the early 1960s involved the transfer of traffic from the sea to the land. There was a pressing need for ferries which could link islands and cross the fjords, which led to a major upturn in ferry construction.
Internationalisation
Idar explains about the internationalisation of the shipyard industry in Ulsteinvik: "Hatlø verksted – the neighbouring shipyard and competitor – was the first. In the late 1950s, they had built a series of long line fishing vessels for the Faeroes. Ulstein mek. Verksted followed in the mid-1960s by building long line-fishing vessels for the Faeroes and seiners and trawlers for Iceland. Later, we built ro-ro and pallet vessels for the Netherlands, cargo vessels for Denmark and passenger vessels for Sweden".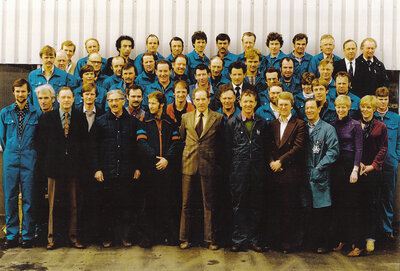 Ulstein Propeller, established in 1965, became one of the most important equipment companies in Ulstein.
Propeller design
By this time, Idar Ulstein was head of design at Ulstein. "It was important to get started on some form of production. We had already acquired some expertise relating to the repair of propellers. It was therefore also natural to enter this field. In 1965 we established Ulstein Propeller as a separate company. Ulstein Trading was established two years later. At the end of the 1960s and during the early 1970s, we won contracts with Fred. Olsen's shipping company to build two so-called "Mediterranean ships" and two large car and passenger ferries for the traffic between Norway and Denmark. These were major projects to us. The results were excellent and gave us a sense of self-belief to market ourselves as professional shipbuilders."
Right initiative
"The oil age appeared in the late 1960s. During this period, we received regular enquiries concerning the construction of supply vessels of American designs, but we believed that these vessels would not be particularly suitable for the prevailing weather conditions in the North Sea. We began to develop new types of vessels in-house, and split the vessels into different series. Offshore vessels were in the UT700 series. The hulls were broader and had a larger freeboard, so that the vessels could operate in rough seas more safely."
"In retrospect, it is apparent that our initiative relating to offshore vessels was the right one. We began selling designs to other yards around the world, so helping to expand our contacts considerably to both international yards and shipping companies and also giving us the financial strength to carry on an extensive operation within this field. This enabled us to develop much more strongly than if we had simply supplied vessel designs to our own yards," says Idar.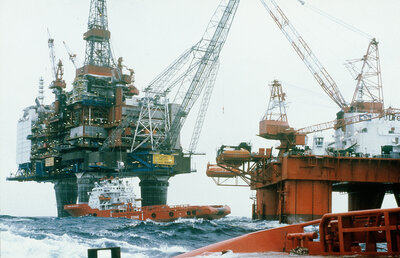 First offshore vessels specially designed for the harsh North Sea environment, UT704/UT705.
Presence in 30 countries
"There was a downturn in Norwegian shipbuilding in the second half of the 1970s. Inflation was at a high, but the Ulstein Group came safely through the difficult times. We wanted to grow both at home and abroad. We had already acquired our neighbouring yard Hatlø Verksted and merged it with Ulstein mek. Verksted in 1974. In 1985 we took over the BMV group in Bergen, Norway, with its deck machinery and engine factory and shipyard. Later, we made a number of acquisitions during the 1980s and 1990s, and we also set up a sales and service office in important ports in more than 30 countries in order to get closer to our international customers and provide better service. We increased to more than 4000 employees, with a turnover of in excess of NOK 4 billion," remarks Idar.
Acquisition
"The Ulstein Group was listed on the Oslo Stock Exchange in 1997. In 1998 we took over the large propeller manufacturer Bird Johnson Co. Inc. in the USA. We also began discussions with Vickers Plc in London, which at the time owned KAMEWA, the world's largest propeller manufacturer, to establish some form of collaboration. This led to Vickers offering to take over the entire Ulstein ship equipment area, and this took place in 1999," explains Idar.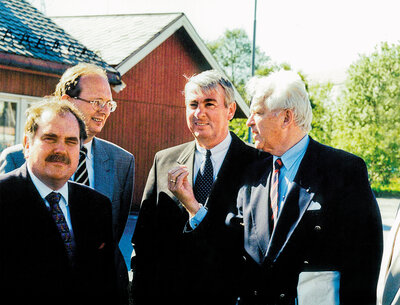 In 1999, Vickers acquired the entire Ulstein Group, with the exception of the shipbuilding division. From left, Vickers' finance director Andrew L. John, Vickers Ulstein Marine Systems chief executive Morten Ulstein, Vickers president Paul Buysse and Chairman of the Board in Ulstein, Idar Ulstein.
"I was of the belief that the group could develop well on its own without selling out. When I realised that Vickers was not interested in the shipbuilding division, I saw that we would have something left to work with. The new shipbuilding division was demerged and named UMV Holding, and forms the basis for today's new Ulstein Group. The business was concentrated on Osneset in Ulsteinvik. An agreement with Vickers meant that we could not start a competing business during the first five years, but we could develop ship designs for ships being constructed at our own yards. In 2000, we established Ulstein Design (currently: Ulstein Design & Solutions AS) and began developing Ulstein designs for in-house manufacture."
"Growth gives new opportunities, and it is important to exploit the opportunities that are inherent in change. We are happy to fight with the changes, as we do not have the financial strength or size to fight against them, even if we wanted to. This can be both challenging and demanding, but after a lifetime in the industry I have learned this much: People enjoy working for a group such as ours precisely because it is continually encountering major challenges. These challenges enable you to make more of yourself, which is important for anyone who has to make a major contribution."
Idar Ulstein resigned as the company's CEO in 1997. He was Chair of the Board when the old Ulstein Group went public and stayed on as chairman after the reestablishment. This interview with Idar was made in 2007. Idar Ulstein died in 2012.
Idar Ulstein with his daughter, Gunvor, and son, Tore.
Today's Ulstein
Idar's daughter Gunvor Ulstein, who has an MBA, was the Group CEO until the autumn 2020. She is Head of the Board of Ulsmo, which is Ulstein Group's mother company, deputy Chair of the Board at Ulstein Group and board member of several Ulstein companies. Idar's son Tore Ulstein holds a PhD in engineering, and was Deputy Group CEO until the summer 2020, and is Chair of the Board at Ulstein Group. He is also board member of several Ulstein companies.
"Ulstein Group is still a family business. Family businesses can change direction more easily and exploit the available opportunities than large companies. We have made large investments, including the dock hall over parts of the drydock, which enables us to build ships regardless of the weather and wind. We are investing heavily in development and skills acquisition. Based on one of the world's most important maritime clusters in the region of Sunnmøre, Norway, we can work with other related companies to develop our company and take up the challenge presented by international competition. We cannot however compete on price without collaborating with regard to the production of steel with companies in low-cost countries. Without such collaboration, we would not have won contracts which have employed the Norwegian capacity. It is important for us to concentrate on the aspects of shipbuilding which require a high level of expertise and which therefore tolerate a higher cost level," says Gunvor Ulstein.
New opportunities
"As regards our ship designs and solutions, the market is global. If we are to compete, we must make efficiency improvements in every area, develop new ways of working and expand internationally", says Tore, adding:
"We have a strategy of being offensive in the development of new solutions, a business which is high risk and cost-intensive and which embraces more than our own needs. We will grow organically and invest internationally. Expansion is the only way to survive in the long term."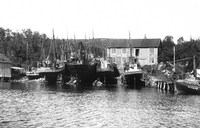 We build upon a legacy
Ulstein has transformed remarkably from a humble mechanical workshop to a trailblazer in vessel design, shipbuilding, and maritime solutions. We take pride in our rich legacy that spans over a century, showcasing our journey of innovation and growth.