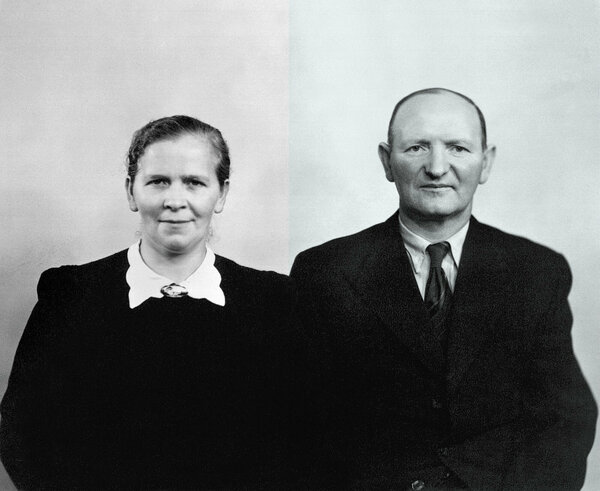 Inga Ulstein - Chair of the Board for nearly two decades
Housewife and mother of six, Inga Ulstein, was married to Martin Ulstein, the founder of Ulstein Mek. Verksted. She was by no means just the boss´s wife. On Martin's sudden death in 1948, she entered into a new role as Chair of the Board, a position she held for nearly two decades.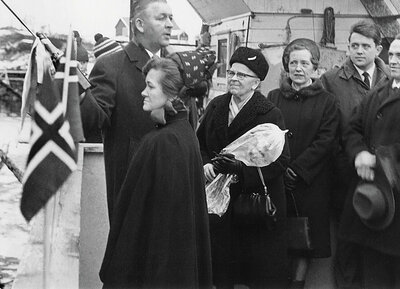 Inga Ulstein 1897-1978
Inga Karoline Ingebrigtsdotter was born in 1897. She was from Knivsflå, a mountain farm in the Geiranger fjord. In the spring of 1917 she married Martin Ulstein in Borgund Church, Ålesund. They moved into their own house in Ulsteinvik in 1928, where they lived ever since.
Her strong involvement in the company would last throughout her lifetime. She had a pleasant and caring disposition, but she also possessed great authority and dignity. She was also a very strong-willed woman, and if it was not for this she would probably never have managed to carry on Martin's work.
She visited the yard on a regular basis, calling to the workers that she was praying for them and keeping them always in her mind. A year after Martin's death, her eldest son, Magnulf, took over the position of yard manager. In the 1960s, her youngest son, Idar, took over that position. The third son, Kolbein Ole, was HR manager.
"It's all just borrowed!"
Inga used to say these words every once in a while: "Don't forget it's all just borrowed, lads!" She would say this to her sons, Magnulf, Kolbein Ole and Idar, but she could just as well have said it to the yard workers in times when the workshop, Ulstein Mek., was in good progress.
The quote, "Don't forget it's all borrowed", reveals Inga's strong religious beliefs. When uttering these words, she meant to convey the message that her sons should not forget that it was not just their own efforts and the efforts of the other workshop employees – from apprentices to the head foreman – that created results. To her, it was a fact that a higher power is present to watch over everything and is helping out.
The modest message comes from a time long since past, but is nevertheless very expressive and powerful. It is a sincere appeal to show consideration and caution and to remember that what we have borrowed is not our own, and we must take care of it with the greatest respect.
Also hidden in these words is an appeal not to lose our sense of reality or sight of our heritage of moderation, diligence and appreciation for what is genuine and real. This is a heritage Inga herself safeguarded in all phases of life. She would admonish those who she felt needed it every once in a while: "Don't forget it's all just borrowed!"
Inga Ulstein died on 27th July 1978, the year she would have turned 81.
Image text: A 1969 naming ceremony for vessel number 51, Norðbúgvin. The UT303 fishing vessel was put to work by Faroese shipowner P/F Hjaller. Next to yard manager Magnulf Ulstein and the lady sponsor (left), is Inga Ulstein and Magnulf's wife, Aagot Ulstein.

The Board of UMV in the 1960s, from left Andor Moldskred, Osvald Ulstein, Idar Ulstein, chair of the Board Inga Ulstein, Magnulf Ulstein, Kolbein Ole Ulstein and Henry Ulstein.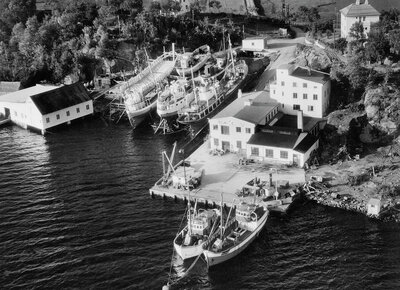 A 1954 picture of vessels being built and repaired serves as a reminder of how important fishing vessels have been to Ulstein's development.
Naming trip Foldereid ferry, 1959
Inga Ulstein appears in this video above, filmed in 1959 on the occasion of the naming of the 'Foldereid' ferry.
Built as Yno 13 at Ulstein Mek Verksted, the ferry was one of the first steel newbuilds. Shiopwner was Ragnar Brækkan, Namsos. With a length of 29 m and a beam of a little more than 8.5 m, she could transport 17 cars and 145 passengers. The main engine was Wichmann, 400 Hp. Foldereid could keep a speed of 11 knots, and her construction cost was NOK 350.000. She was in operation until 1992, when she was sold. Our latest information of her dates back to 1998, when she was sold to Stockholms Södra Skärgardstrafik, Sweden, and renamed "Queen".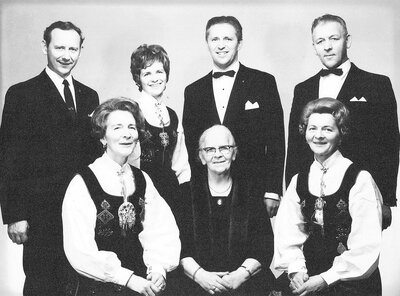 Inga Ulstein and her six children. From left, Kolbein Ole Ulstein, Dagny Ulstein Kristensen, Ragnhild Ulstein Loen, Idar Ulstein, Inger M. Ulstein and Magnulf Ulstein.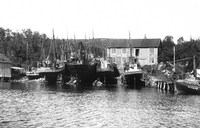 We build upon a legacy
Ulstein has transformed remarkably from a humble mechanical workshop to a trailblazer in vessel design, shipbuilding, and maritime solutions. We take pride in our rich legacy that spans over a century, showcasing our journey of innovation and growth.