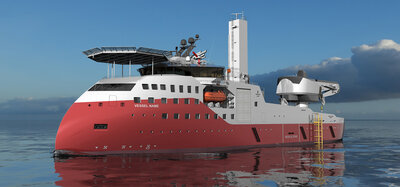 Crossover vessel
The ocean has been and will be a substantial source of energy. Whether offshore oil & gas, offshore wind, or wave energy generation, these energy markets will require a large fleet of vessels supporting the complete lifecycle, including preparation, installation, extraction, operation, maintenance, and decommissioning of offshore installations. In many cases, the vessels in these two offshore markets can take on the same operations but still work in separate markets. As the offshore wind segment has matured, a need for developing vessels to be used as a crossover between the wind and oil & gas segments has also occurred.
Flexibility and agility need to be integrated from the early design phase to ensure the full cross-over market capability. Ulstein has studied the complete lifecycle operations of offshore installations and integrated the common characteristics and functionalities beneficial to combine. This leads to concepts designed to perform various tasks across energy markets, including W2W, subsea and IMR operations.
These vessels can typically be equipped with an offshore crane, ROVs, W2W gangway, working deck, and suitable accommodation. Together with our clients, we configure the optimum combination of functions for the intended purpose. 
 
The major benefits for the vessel owner to look across segments:
Navigating the seasonality of W2W operations - fully covering the required functionality of a vessel during the summer peak demands while having functionality for year-round operations within both the offshore wind and offshore oil and gas markets
De-risking investment by being able to serve several markets
Enabling a more agile transition between markets to quickly cover peak demands that conventional subsea vessels cannot serve due to time-demanding mobilisation and demobilisation requirements
Supporting the trend towards more unmanned offshore installations requiring walk-to-work services
Offshore design experience is key
Knowledge and experience from the oil & gas era are key when developing high-performance offshore wind vessels. Today, learnings from working with dedicated vessels for the offshore wind segment can also be drawn back into the oil & gas industry vessels, together with the experience gained from projects within the passenger market, with high requirements for comfort and optimised logistics onboard, and fisheries, with focus on workability, resilience, and deck operations. A combination of all these experiences is used when developing designs needed to support a growing offshore wind market and a strong offshore oil & gas market. Covering both segments, Ulstein is a strong partner to develop your next-generation offshore energy vessel.