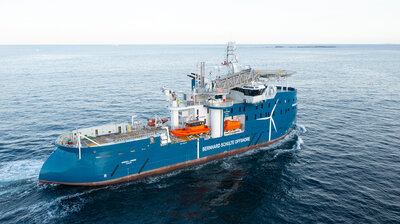 More flexibility for deployment in different wind farm markets
When Bernhard Schulte Offshore decided to install a second pedestal for the gangway at the stern, it was based on the knowledge that hardly any other operating offshore wind service vessels could take on assignments in the Baltic Sea as well as in the North Sea. In the Baltic Sea, service platforms are generally lower located than in the North Sea. The existing gangway can be used on both pedestals.
Rainer Mueller, Captain on the Windea Leibniz says, "With the two new pedestals, we are more flexible when approaching the service platforms for the wind turbines. There is no uniform standard for the height of the platforms in North Sea wind farms. After the yard stay, we can now vary the height of our gangway. With the Baltic pedestal at the stern, we can easily switch our gangway from the North Sea height to the lower Baltic Sea height, which makes us even more flexible when working in different wind farm regions. The new cabins allow us to accommodate more technicians on board. All this really makes 'Windea Leibniz' the new it-girl on the CSOV market."
Structural engineering work
Ulstein's designers and engineers have been involved in the structural engineering work for this upgrade. This includes enforcement of the bridge to carry the gangway which is now parked on the bridge roof. The area for the base of the pedestal also needed to be strengthened.
The upgrades made a capable vessel even more versatile
"The new upgrades make a very capable vessel even more versatile. Now our 'Windea Leibniz' is more flexible and attractive for the market. The upgrade was perfectly planned and executed by Ulstein. My thanks go to everyone involved in this great project", says Matthias Mueller, Managing Director of Bernhard Schulte Offshore.