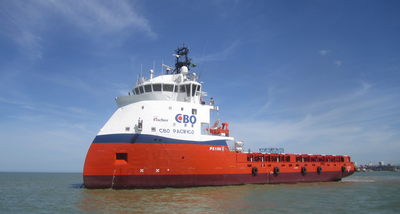 CBO Pacifico
The CBO Pacifico is based on the ULSTEIN PX106 Platform Supply Vessel design for efficient and flexible transportation of bulk and general cargo to installations offshore. The vessel measures 76.3 metres (LOA) by 16 metres (beam), and the depth to main deck is 7.5 metres.
Note: Specifications may have changed since the original completion date.
Classifications:
DNV+1A1,
CLEAN,
DYNPOSAUTR,
E0
Ship history
The CBO Pacifico left the Estaleiro Alianca yard on 10 May 2012. The newbuild went straight into a contract for Petrobras. She is the sister vessel to the CBO Atlântico, which was delivered in February 2012. These were the first two, of totally six, ULSTEIN-designed X-BOW platform supply vessels to be constructed in Brazil. Before, CBO already had two PSVs of P106 design from ULSTEIN in their fleet, delivered in 2006 and 2007.
(From press release 14 May 2012): "The finish and quality of these vessels are impeccable. We are very pleased with the good cooperation we have had throughout these projects with shipowner CBO and the Estaleiro Alianca yard," said a representative of Ulstein Design & Solutions AS upon the occasion of the delivery.

These first two PX106 vessels are relatively small vessels that comply with Petrobras' PSV 3000 tender. The next four are of the larger PX105 design that complies with the PSV 4500 tender. All vessels were purposed to work on 8-year contracts for Petrobras. 

It was in 2010 and 2011 that CBO decided to order the ULSTEIN-designed PSVs for Petrobras' oil rig support activities outside Brazil. Their demands were such: The ships had to adapt to more complex operations and bring new technologies to provide quality services, ensure safety and protect sensitive marine environments. The PX106 and PX105 vessels are designed for efficient and flexible transportation of bulk and general cargo to installations offshore. The contracts with ULSTEIN included the deliveries of design, engineering, main equipment and commissioning follow-up. 

'CBO Pacifico' has diesel-electric propulsion and azimuth propellers. 'CBO Pacifico' complies with the CLEAN notation from Det Norske Veritas. Three of the tanks are multi tanks of the Cargomax system.
2022: CBO has contracted Ulstein Power & Control for deliveries of Ulstein Shore Power Systems for the CBO Atlanctico and CBO Pacifico, including interface to ULSTEIN IAS. Shore power reduces the running hours on generators, reduces fuel consumption and emissions at port all the way down to zero - An important step in the direction of zero-emission vessels.