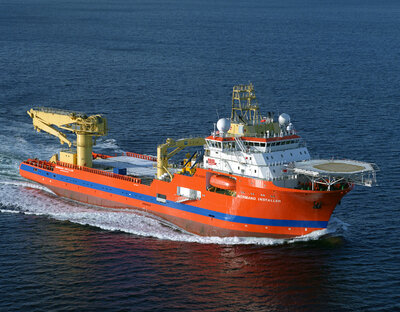 Normand Installer
A multi-functional anchor handling and offshore construction vessel of the VS 4204 design. The vessel has two working decks and a large load capacity. Equipped with a large anchor handling winch, moonpool, A-frame, helicopter deck and a 250 tonne offshore crane.
Owned By
Advanced Deep Sea Installation
Additional Data
Heavy Fuel Oil (IF 40)
2136
Note: Specifications may have changed since the original completion date.
Classifications:
DnV1A1,
Tug,
DynPosAUTRO,
E0,
CLEAN,
COMF-V(3)C(3),
HELDK-SH,
SF,
ICEC,
CRANE,
DK(+),
TMON,
NAUT-OSV(LOC)
Ship history
MIlestones
Delivered on 3 March 2006 to Advanced Deep Sea Installation (ADSI), a joint venture between the shipowner Solstad Shipping AS, Norway, and Monaco-based Single Buoy Mooring Ltd (SBM). The latter is one of the world?s largest companies in offshore loading systems and floating production units (FPSOs) on oilfields. At the time of delivery, 'Normand Installer' entered the Solstad fleet as their largest vessel.
2017: Still active - IMO 9328819
From June 2017, Deep Sea Supply, Solstad Shipping and Farstad Shipping became one joint shipowning company, from 1 October 2018 the joint company is named Solstad Offshore.
10 Dec 2019: The vessel has been on a contract to SBM since delivery. In December 2019, Solstad Offshore announced that SBM Offshore has extended the charter for the construction support vessel (CSV) Normand Installer from an original 105 days commitment (reported August 2018) to a 1-year contract from January 2020, in direct continuation with present contract.