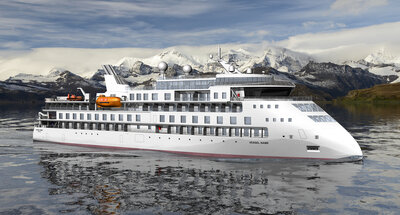 Ocean Discoverer
This new vessel shares the feature of three other vessels in the INFINITY class of having windows all around the bow lounge to give a lot of light and a feeling of being in nature whilst indoors. The vessel has 81 double cabins, 5 single cabins and 32 optinal. Crew onboard are 101 (82+19 expedition)
Owned By
SunStone Ships Inc
Primary Specifications
Accommodation
199 (167+32 optional) PAX
Note: Specifications may have changed since the original completion date.
Ship history
The vessel holds accommodation for 199 passengers, and a crew of 101. She is ICE CLASS 1A certified for polar cruising, holds the highest comfort class, and is SOLAS* certified including a Safe Return to Port passport.
Although all the SunStone vessels in this class are designed on the same platform, being 104.4 metres long and 18.4 metres wide, they are all customised to accommodate a varying number of passengers and crews, and the public spaces are also carefully designed according to the client's request. This new vessel shares the feature of three other vessels in the INFINITY class of having windows all around the bow lounge to give a lot of light and a feeling of being in nature whilst indoors.
Get in touch

Lars Ståle Skoge
Description

Commercial Director

Affiliation

Ulstein Design & Solutions AS