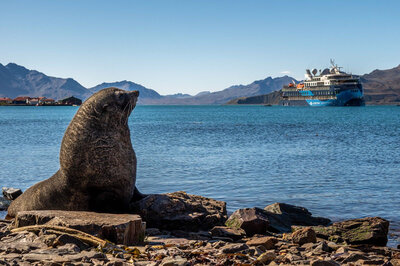 Ocean Victory
The 104.4m long X-BOW vessel sports the capacity for 185 guests in 93 suites, 68 with balconies, nine with French balconies and 16 with panoramic windows. The vessel has been chartered out to Albatros Expeditions for Antarctica journeys and to American Queen Voyages for Alaska cruises.
Owned By
SunStone Ships Inc
Operated By
American Queen Voyages/Albatros Expeditions
Additional Data
DWT approx (draught 5.1m)
1,000
DWT approx (draught 5.3 m)
1,450
Note: Specifications may have changed since the original completion date.
Classifications:
PolarClass6,
ICE1A*,
PassengerShip,
POLARCAT-B,
+HULL,
+MACH,
INWATERSURVEY,
Comf-Noise-Pax1,
Comf-Noise-Crew3,
CLEANSHIP,
AUT-UMS,
MON-SHAFT,
LI-HG-S2,
SEEMP,
UnrestrictedNavigation,
SRP
Ship history
US-based SunStone Ships has ordered a series of X-BOW® expedition cruise vessels for construction at the CMHI yard, China.
Although being one of the sister vessels to the 'Greg Mortimer', which is vessel number 1 in the INFINITY series, the 'Ocean Victory' differs from the 'Greg Mortimer' in several ways, reflecting the flexibility of the design series. The 'Ocean Victory' sports 93 staterooms, all with ocean view and 90 per cent with their own balcony, and an infinity pool has been installed. The bridge wings have been replaced by two observation platforms. Onboard are several restaurants, a wellness area, an Albatros Nordic Bar, an open deck dining facility, a modern lecture lounge, and other amenities.
The 'Ocean Victory', number three in the INFINITY series of expedition cruise vessels, has been chartered out to Albatros Expeditions for Antarctica journeys in the winter season. The company has also announced that they will operate some South American voyages. In the summer, the American Queen Voyages will be offering Alaska cruises. 'Ocean Victory' was named in South Georgia on 3 December 2021.
Milestones
2019, 12 Mar: Steel cutting ceremony
2020, 16 Mar: Launching
2021, early Feb: Sea trial
2021, 12 Oct: Delivery
Follow the construction of the SunStone Ships' vessels.