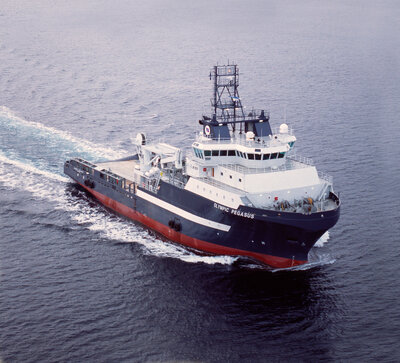 Olympic Pegasus
Olympic Pegasus is a "high spec" Multifunctional Anchor Handling Tug Supply Vessel of the ULSTEIN A101 design. The vessel is designed for a wide range of offshore operations and has large rope/wire capacities and a hotel compliment of high standards.
Owned By
Ocean Ridge Industries
Note: Specifications may have changed since the original completion date.
Classifications:
DNV+1A1,
Tug,
SupplyVessel,
SF,
OILREC,
E0,
DYNPOSAUTR,
ICEC,
CLEAN,
COMF(V-3),
DK(+),
HL(+)
Ship history
Olympic Shipping was first to order from the new portfolio of ULSTEIN designs after they were launched in 2000. The first two vessels were 'Olympic Hercules' and 'Olympic Pegasus', both of the large and powerful ULSTEIN A101 Multifunctional Anchor Handling Tug Supply design.
Bjørn Kvalsund at Olympic Shipping stated that "Under the design and building phases we had a close collaboration with Ulstein, in order to indicate our requirements and wishes. The size, breadth and power are important. The vessels are very stable and behave very calmly in the sea. The high freeboard means that we get little water on deck in heavy seas, thus making it safer for the crew working on deck."
"Already from the first jobs, the ULSTEIN A101 designs earned a solid reputation," said shipbroker Bruse Kverneland at Seabroker Chartering AS shortly after the first vessels of this design had entered into the market. "The charterers want ships which they know will get the job done well and in an efficient manner. The spooling gear is quite important for deep-sea jobs where one utilizes a considerable amount of wire or chain. Many AHTS vessels do not have this, and in addition, its size is appropriate for many of the heavier jobs. The large and most powerful vessels will be more in demand since increasing amounts of oil activities are taking place in deep water."
 
Milestones
Olympic Shipping was restructured as Olympic Subsea ASA in 2017.
2022: The vessel has been sold and will be transported to China.