The patented trawl solution, the iconic X-BOW hull design, and the advanced hybrid propulsion system with a battery capacity of a substantial 1,130 kilowatt-hours enable the fishing vessel to set a new benchmark for trawl fishing. This leads to a significant reduction in emissions and optimal catch utilisation. The comprehensive approach to design and technology has already been recognized with prestigious awards such as "Innovation of the Year" at the Nor-Fishing exhibition and "Ship of the Year" at the Nor-Shipping exhibition.
The factory trawler, with a length of 73.2 metres, was towed from Norse Shipyard in Turkey, and the outfitting and completion of the vessel at Westcon is ongoing. 
Whitefish and shrimp
The ECOFIVE trawler is specialised for whitefish and shrimp fishing and boasts a spacious cargo hold with a capacity of 2,000 cubic metres.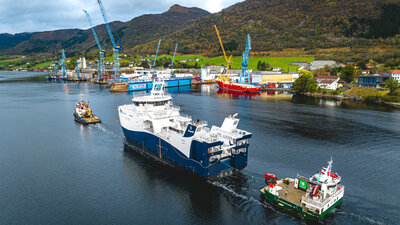 The trawler arriving Westcon Ølen. Photo: Westcon/Svein Egil Økland.
Substantial fuel reductions
Together with various other energy-efficient initiatives, the hybrid propulsion system is expected to reduce fuel consumption by at least 25 per cent.
ECOFIVE is an abbreviation for 'Eco-Friendly Fishing Vessel,' a vision shipowner Tore Roaldsnes at Bluewild has long aspired to realize. The collaboration between companies in the Norwegian maritime cluster has made it possible to bring this vision to life, and the innovations introduced by ECOFIVE may potentially benefit other fishing companies in the future.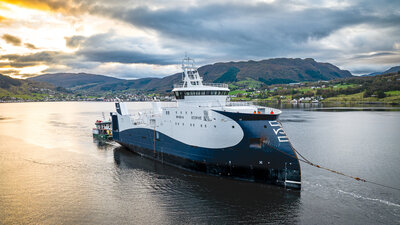 The ECOFIVE trawler, developed by Ulstein Design & Solutions AS. Photo: Westcon/Svein Egil Økland.