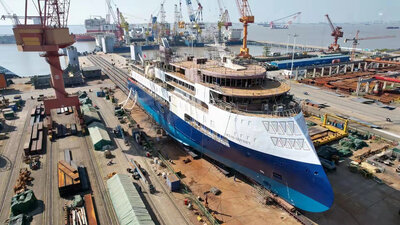 Ocean Odyssey
The expedition passenger ships in the INFINITY CLASS fleet are 104,4 m long and 18,4 m wide, small enough to give an exclusive atmosphere, large enough to yield all expected services and facilities. They can be individually adapted, according to the charterer's specifications.
Owned By
SunStone Ships Inc
Operated By
Vantage Cruise Line
Additional Data
DWT approx (draught 5.1m):
1,000
DWT approx (draught 5.3m):
1,450
Note: Specifications may have changed since the original completion date.
Classifications:
PolarClass6,
ICE1A*,
PassengerShip,
POLARCAT-B,
+HULL,
+MACH,
INWATERSURVEY,
Comf-Noise-Pax1,
Comf-Noise-Crew3,
CLEANSHIP,
AUT-UMS,
MON-SHAFT,
LI-HG-S2,
SEEMP,
UnrestrictedNavigation,
SRP
The intimately scaled Ocean Odyssey' accommodates up to 162 guests with 77 cabins including 15 solo cabins. The design solutions lead to breathtaking views. Although moderate in size, the vessel holds a restaurant, a space for lectures, a lounge, a multilevel observation lounge with a 180-degree indoor observation deck, outdoor viewing areas, a fitness centre and beauty salon, a raised infinity pool and hot tubs, sauna and spa.
Ship history
The expedition cruise ship is built to the ice-strengthened, Polar Class 6 standards and comes with the ULSTEIN X-BOW® technology, allowing for smoother sailing and deeper exploration into polar areas, enhancing the passengers' and crews' comfort as the vessel traverses the world?s seas. It comes with environmentally friendly standards with reduced emissions into air and sea and lower energy consumption and runs on low-sulphur marine gas oil.
The flexible design of the INFINITY class series opens up new possibilities for every new vessel. The 'Ocean Odyssey' marks Vantage Cruise Line's second entry into luxury expedition cruising, this being the sister ship to the 2021 delivery, the 'Ocean Explorer'. A novelty for these two vessels is the unique entrance atrium on decks 4 and 5. Another feature, and very characteristic of these two vessels, is the atrium forward consisting of a two-level lounge with a piano bar and panoramic bow windows.