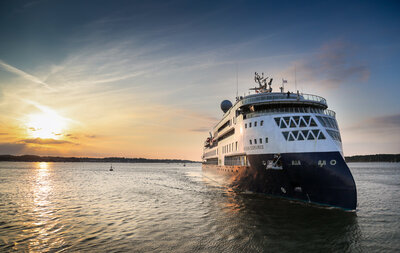 Ocean Explorer
The INFINITY CLASS vessels are 104,4 m long and 18,4 m wide, small enough to give an exclusive atmosphere, large enough to yield all expected services and facilities. They can be individually adapted, according to operator's specifications.
Owned By
SunStone Ships Inc
Operated By
Aurora Expeditions
Additional Data
DWT approx (draught 5.1m)
1,000
DWT approx (draught 5.3 m)
1,450
Note: Specifications may have changed since the original completion date.
Classifications:
PolarClass6,
ICE1A*,
PassengerShip,
POLARCAT-B,
+HULL,
+MACH,
INWATERSURVEY,
Comf-Noise-Pax1,
Comf-Noise-Crew3,
CLEANSHIP,
AUT-UMS,
MON-SHAFT,
LI-HG-S2,
SEEMP,
UnrestrictedNavigation,
SRP
The flexible design of the INFINITY class series opens up new possibilities for every new vessel. The 'Ocean Explorer' stands out from vessel number 1, the 'Greg Mortimer' by having an infinity pool installed on deck 7. Like her sister vessels in this series, she carries the patented Ulstein feature, the ULSTEIN X-BOW®.
A new feature on this vessel is an atrium forward consisting of a two-level lounge with a piano bar and panoramic bow windows.
When the vessel visited Oslo in July 2022, some of our ship designers paid a visit on board for the first time since the vessel's completion at the CMHI yard. They received feedback from the crew, who were stunned by the vessel's soft motions in the sea, comparing her movements to a dolphin. The bow lounge with the windows is impressive and adds an extra wow factor - and a lot of light - to the vessel, and the lounge is very popular among the guests.