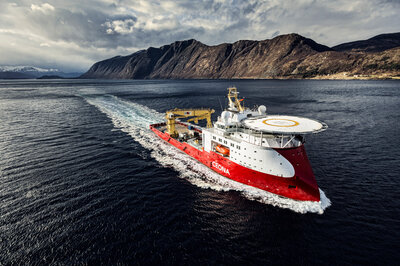 Onyx (Polar Onyx)
A high-capacity flexible pipelay/subsea construction vessel for harsh conditions and deep waters. For operation in the SURF/Construction/IMR market. She is fitted with a 275t vertical lay system which is capable of installing flexible pipe and umbilicals of 50 - 630mm OD in up to 3,000m water depth.
Owned By
Dong Fang Offshore
Additional Data
Ballast water/Drill water
6,300
Highest standard of dynamic positioning
DP3 / Operation+
VLS system for installation of flexible pipe and umbilicals (50 - 630mm OD)
275
Note: Specifications may have changed since the original completion date.
Classifications:
DnV1A1,
SF,
E0,
DYNPOS-AUTRO,
CleanDesign,
NAUT-OSV(A),
COMF-V(3),
COMF-C(3),
HELDK-SH,
CRANE,
SPS,
VIBR,
BIS,
DK(+)
Ship history
Milestones
2014, 4 March:
The ship was another on-time delivery from Ulstein Verft. Ceona chartered the vessel for a fixed period of five years. After delivery, a 275t vertical lay system was installed before 'Polar Onyx' entered operations in May 2014. Her first assignment was to deliver deepwater SURF services to Petrobras offshore Brazil. Steve Preston, CEO at Ceona, said: "We are delighted with the on-time delivery of the 'Polar Onyx'.
The SX121 design has a high capacity for flexible pipe cargo below the deck and on the main deck. The X-BOW ensures excellent sea-keeping capabilities and fuel efficiency. Polar Onyx is built to the highest standard for station keeping, redundancy and dynamic positioning with DP3 and Operation +, providing reliability in operation. 
 
Irene W. Basili, CEO of GC Rieber Shipping, stated: "The vessel is designed to meet the increasing expectations from our clients in the high-end subsea segment in terms of operational redundancy and flexibility. Our cooperation with Ulstein Verft has been excellent, which again has been essential for us in supporting our client.
"Polar Onyx" is certified according to Special Purpose Ships (SPS) and Clean Design and carries a Green Passport. "Polar Onyx" has a large construction/cargo deck area of 1,700 m2. She is equipped with an AHC offshore crane capable of lifting 250 tonnes at 14-metre outreach, and a 12-tonne AHC offshore crane. She carries two work-class ROVs, one to be deployed through a moon pool, the other over the starboard side.
November 2015: 
GC Rieber Shipping has taken over the Polar Onyx offshore construction vessel from Ceona. The first assignment after the take-over was a charter agreement with Marine Platforms Limited for a fixed period of 60 days starting in January 2016 and an option for up to 2 months of additional work. The assignment was to conduct flex-laying activities for Chevron offshore Nigeria.
February 2021:
Polar Onyx has been working for DeepOcean on deepwater oil and gas projects in west Africa since 2016 and this was recently extended to May 2021. End February 2021, GC Rieber Shipping announced another contract for the vessel from a Tier 1 subsea contractor for a firm duration of three months in the North Sea, starting on 1 July 2021. The assignment includes options to extend this into Q4 2021.
December 2021: 
GC Rieber Shipping has sold the Polar Onyx to Taiwan-based offshore wind service player Dong Fang Offshore, a subsidiary of Hung Hua Construction. Delivery took place in February 2022. The vessel will be working on a 2022 construction campaign in Taiwanese waters and her name has been changed to 'Onyx'.
2023: Still active - IMO 9664706