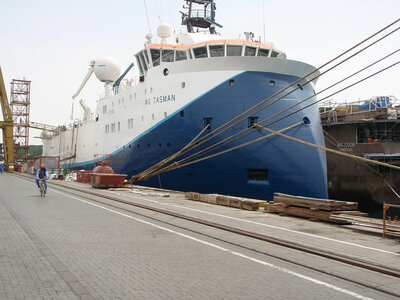 SW Tasman
12-streamer 3D offshore seismic research vessel of the ULSTEIN SX124 design. In 2022-23, SW Tasman will undergo a conversion to a dual ROV seismic vessel.
Note: Specifications may have changed since the original completion date.
Classifications:
DNV+1A1,
ICE-C,
SF,
COMF-V(3),
HELDK,
E0,
DYNPOSAUTR,
NAUT-AW,
CleanDesign
Ship history
ULSTEIN designed six seismic survey vessels which were delivered to WesternGeco in the time period 2009-10. All six vessels are based on the SX124 design. Two vessels were constructed at Drydocks World - Dubai, and four were built at Barreras, Spain.
The vessels ranged by delivery date: 
 
'WG Columbus': Hull number 1657 from Barreras, Spain, delivered on 16 March 2009. The first X-BOW® vessel to be built outside ULSTEIN´s own yard. Renamed 'SE Columbus'. 
'WG Magellan': Hull number 1658 from Barreras, Spain. Due to major strikes in the Vigo area in spring 2009, WG Magellan was completed in Viana do Castelo, Portugal, and delivered on 29 July 2009. Renamed 'SW Magellan'. 
'WG Amundsen': Hull number 1659 from Barreras, Spain, delivered on 16 February 2010. Renamed 'SW Amundsen'. 
'WG Tasman': Hull number 64 from Drydocks World Dubai, delivered on 31 March 2010. Renamed 'SW Tasman'. 
'WG Vespucci': Hull number 1660 from Barreras, Spain, delivered on 21 April 2010. The vessel left the yard on 24 April for her first mission in the North Sea. Renamed 'SW Vespucci'. 
'WG Cook': hull number 65 from Drydocks World Dubai, delivered on2 August 2010. Renamed 'SW Cook'.
 
2018: Shearwater announced its purchase of the marine seismic acquisition assets and operations of WesternGeco, the geophysical services product line of Schlumberger, by the end of 2018. All vessels to change prefixes.
6. February 2019: SW Tasman and SW Cook received seismic contracts for five months for Aker BP and Equinor. The work will be carried out through summer 2019. For Aker BP, seismic work will be performed at the Frosk, Ivar Aasen and Valhall fields. This work will be started up in Q2 2019, and last for approx. four months. Thereafter comes the assignment for Equinor on the Gullfaks field, lasting about one month, and starting up in Q3 2019.
January 2020: SW Cook and SW Tasman were awarded an assignment to execute data acquisition on a 4D Qseabed ocean bottom seismic (OBS) project by Lundin Norway on a two-month project for the 2020 North Sea summer season on the Edvard Grieg field, Norway.
October 2022: SW Tasman will undergo a conversion to a dual ROV seismic vessel. Ulstein Design & Solutions AS, the original vessel designers, will provide conversion engineering, The vessel is expected to be available to clients early in the second quarter of 2023. Designed to deploy ocean bottom nodes in both deep and shallow water, the vessel will also be able to provide high-quality source for surveys and conduct towed streamer surveys. The conversion is an example of how Shearwater can leverage its flexible fleet to provide additional high-end capacity tailored to clients? needs in response to a significant increase in demand for ocean bottom seismic.
2023: Still active - IMO 9488542