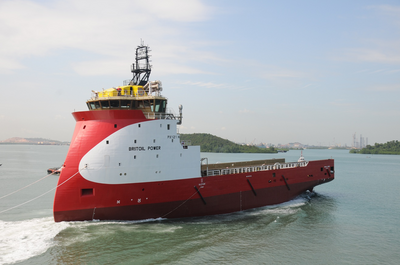 Topaz Endurance
Topaz Endurance (first name Britoil Power) was delivered as a platform supply vessel, customised according to the original owner, Britoil's, requirements. This included one extra accommodation deck, allowing for a total complement of 50 persons. In 2023, the vessel was acquired by Fugro, and Ulstein redesigned it into a geotechnical vessel.
Additional Data
Drillwater/Water ballast
1620
Note: Specifications may have changed since the original completion date.
Classifications:
DNV+1A1,
OffshoreServiceVessel,
Supply,
SF,
E0,
DYNPOS-AUTR(DP2),
NAUT-OSV(A),
CleanDesign,
COMF-V(3),
COMF-C(3),
LFLFuelled,
DK(+),
HL(+),
OILREC,
BIS,
SPS,
FireFighterI
Ship history
In 2015, the two platform supply vessels, 'Britoil Power' and 'Britoil Energy' of the PX121 design, were delivered to Britoil Offshore Services Pte Ltd., Singapore. The vessels were constructed at Britoil's yard, P.T. Britoil Offshore Indonesia, on the island of Batam.
To Ulstein, the contract comprised a comprehensive equipment package including basic design, engineering support and main equipment supplied by ULSTEIN (generator sets, DP system, main azimuth propellers, tunnel thruster and retractable thruster, FiFi system, cargo handling system, etc.). Additionally, it included a large power and control package (electric propulsion system, integrated bridge solution, consoles, radio/navigation equipment, ULSTEIN IAS® (integrated automation system) and ULSTEIN COM® (internal communication system).
Britoil has long experience in ship services and transport. The two X-BOW® vessels marked Britoil's entry into the PSV market, as their fleet up to these deliveries mainly included anchor-handling tugs and barges.

The ships were built according to IMO's SPS Code (special purpose ships), and have OILREC class notation (oil spill recovery in emergency situations).
Britoil Power was delivered on 13 August 2015, and Britoil Energy on 22 September 2015.
Milestones
April 2018: Britoil Power changed name to Topaz Endurance.
February 2023: Fugro has decided to acquire the two sister vessels, Topaz Endurance and Topaz Energy (now: Fugro Resilience), and repurpose them into geotechnical vessels. Ulstein Design & Solutions AS has been contracted to redesign the vessels.
2023: Still active - IMO 9678769