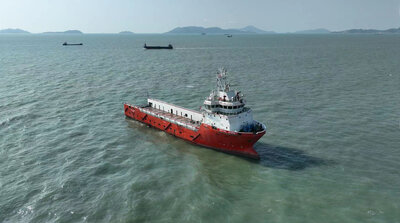 Britoil Journey
A platform supply vessel of the ULSTEIN P128 design, a design developed to serve the general PSV market related to work-over barges and jack-up rigs.The design combines low fuel oil consumption with high carrying capacity at an attractive price. ​The work deck can accommodate four lengths of 12 metre-long casing pipes.
Operated By
Britoil Offshore Services
Additional Data
Ballast/drill water, approx.
1,180
Note: Specifications may have changed since the original completion date.
Classifications:
BVI-HULL-MACH,
SupplyVessel-Oilproduct,
FireFightingship1,
WatersprayingUnrestrictedNavigation,
AUT-UMS,
DYNPOSAM/ATR,
SDS,
Heavycargodeck,
CLEANSHIP
Ship history
The design is a smaller PSV that can support barges and rigs in a more economical way than the traditional offshore support vessel, both in terms of building cost and operational costs. The work deck is enclosed by plate covered crash barriers providing increased safety for crew and cargo. The discharge systems have been designed for safe and efficient loading and discharging of several dry and wet bulk cargoes simultaneously. DP2 and automation system for machinery and cargo handling will contribute to safe and efficient vessel's operation.
Milestones
2013: Ordered by the Hong Kong-based Kuma Shipping in 2013. Later bought by Vallianz. Original name: Vallianz Voyager.
2023: Bought by Britoil, renamed Britoil Journey.