We are ready to help
Ulstein is experienced in developing system solutions, control systems and products for vessels, and integrating individual products into larger systems.
The service and aftermarket services in this area include precommissiong, installation and commissioning of our own (ULSTEIN COM, ULSTEIN IAS, ULSTEIN AMS, ULSTEIN BAS) and others' electrical systems and products. 
Service 24/7
We have service engineers travelling to yards and harbours worldwide to perform service, and our service phone is manned 24 hours a day.
System services & upgrades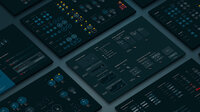 System integration
Cutting-edge solutions that optimise vessel performance and enhance operational efficiency. 
Get in touch

Per Einar Moldskred
Description

Service Manager

Affiliation

Ulstein Power & Control AS