Some yacht owners use their yacht purely for leisure and pleasure. Others want more to it, they want to seek out the unexplored and experience their yacht cutting through the waves into the unknown. They're looking for an exploration voyage, an adventure into the unexplored.

Seakeeping
Seakeeping is an important feature in such yachts. Ulstein, established in 1917, has a long maritime history and its vessel designs have been developed to withstand the harshest conditions outside the coast of Norway.
The development of the ULSTEIN X-BOW® comes as a natural consequence of this. This design feature, firstly introduced in 2005, and taken in use on more than 100 vessels, mostly offshore vessels, has only recently been introduced to the cruise and yacht markets.
Certainly, the X-BOW yacht is designed for pleasure and leisure but is also offshore tough. Its curvature reduces the impact and slamming loads, as well as the following vibrations. The X-BOW® lines extend the waterline to full hull height, splitting the energy from the waves, compared to the traditional lines where the water is crushed and creates a spray over the bow. Sea spray can cause slippery decks, while slamming leads to wear and tear to the hull and can bring on discomfort to those on board. The X-BOW is a more gentle platform for sea crossings.
Read blog article: Can ship design cure seasickness?
Watch interview with guest on first 'Greg Mortimer' Antarctica crossing:
Greener operations
Sustainability is at the forefront of the next generation of yachting experiences, and Ulstein's designs have been developed with this in mind. From bow to stern, the vessels have been thought through for reducing energy consumption while maintaining all yachting features and experiences. Firstly, the X-BOW has a direct impact on reducing the resistance of the vessel while sailing. Tank tests and real-life measurements indicate an 8 per cent reduction at medium to low speeds (6 to11 knots) and 7 per cent for higher speeds above 13 knots.
More to read: Moving towards zero emissions in yachting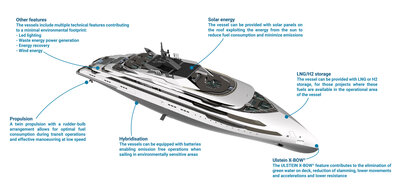 All Ulstein yachts can be adjusted to hybrid propulsion for zero emission operations. The size of the battery energy system can be adapted to reach the 'zero emission' expectations of the yacht owners and eliminate the environmental footprint in the areas they are visiting.
Same length ? increased volume
The X-BOW design increases the foreship volume, resulting in more interior space per overall hull length. The large extra areas in the bow part can be used to allow a lounge, perhaps a large bar, an exploration study or laboratory, maybe a library, sauna, fitness room ? whichever is your desire.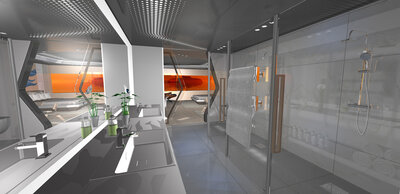 The design speaks for itself ? an X-BOW yacht is stunning, spectacular and individualistic. Perhaps very similar to its owner?
Here's how the X-BOW benefits compared to traditional design lines:
Excellent seakeeping capabilities
Wave-piercing
Absorbing the impact of head seas:
Reduced bow impact and slamming loads
Reduced vibrations from waves
Safer due to reduced motions and reduced ocean spray
Lower speedloss, faster speed in poor weather
Lower acceleration levels
Lower pitch response due to volume
Increased volume in bow part compared to the overall length
More gentle experience, increased comfort
Great views from the bow part by looking straight down to see where the sea meets the bow