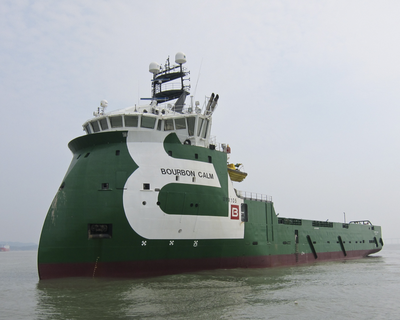 Bourbon Calm
A platform supply vessel with a length of 88.9 metres, a width of 19 metres, deadweight 4,290 tons and a maximum speed of 15.5 knots. The ship is equipped for a permanent capacity of 25 persons in 15 single and 5 double cabins
Owned By
Bourbon Offshore Norway AS
Note: Specifications may have changed since the original completion date.
Classifications:
DNV+1A1,
SF,
E0,
DYNPOS-AUTR,
CleanDesign,
COMF-V(3),
LFLFuelled,
DK(+),
HL(+),
ICE-C,
BIS,
OILREC,
NAUT-OSV(A),
FireFighterI.
Ship history
IMO Number: 9530125
Milestones
Bourbon Calm is the third in a series of four platform supply vessels of ULSTEIN's PX105 designs to Bourbon Offshore Norway from this yard.
Vessel number 1: Bourbon Front 
Vessel number 2: Bourbon Clear
Vessel number 3: Bourbon Calm
Vessel number 4: Bourbon Rainbow
The vessel?s cargo system ensures safe and efficient loading and discharging. The Multi Application Cargo Solution (MACS) and product tank configurations give a major increase and flexibility in cargo capacity.
Press article in the Norwegian magazine 'Maritimt Magasin', October 2012:
The ships are designed according to Bourbon Offshore Norway's demanding specifications, and are extremely efficient. The standard solution in a supply vessel is dedicated tanks, which means tanks that only carry few types of cargo. This requires a lot of space on board, and is a huge waste of resources. We use MACS tanks in addition, these can combine dry bulk and liquid bulk. While regular supply ships typically carry six or seven different types of cargo, these ships can carry 21 different products in one trip. The ships can therefore carry a much larger range of products, which provides greater flexibility.
An important function on board "Bourbon Calm" is the PG-MACS load system that allows the use of combination tanks for various types of cargo such as cuttings, dry bulk, synthetic fluids, fuel oils and ORO. The system is developed by Ing. Per Gjerdrum in cooperation with Bourbon Offshore, ULSTEIN and Flow Safe. The ships have eight MACS tanks on board, and four of these are low flashpoint tanks, meaning that they can carry flammable content. In addition, there are 12 ordinary tanks. All tanks have their own pump to be able to unload the tanks independently, and each tank has a separate pipe system. This makes unloading safer and more efficient.