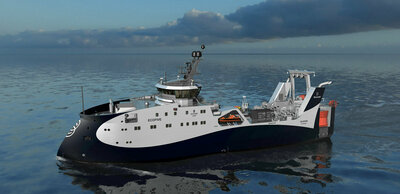 ECO TBN
The fishing company Bluewild is expanding its fleet with a new factory trawler designed by Ulstein Design & Solutions AS. Gentle handling of the catch and the lowest possible energy consumption have been important elements in the design development. The trawler will be built at Westcon Yards.
Additional Data
Freezing capacity
100 tonnes/24h
Cargo hold
1200 tonnes/2000m3
Towing force trawling at 2.5 knots
85 tonnes
Towing force trawling at 4 knots
75 tonnes
Note: Specifications may have changed since the original completion date.
Classifications:
1A,
SternTrawler,
ICEC,
ICE1B(HULL, RUDDER),
E0,
Battery(Safety),
CLEAN,
BIS,
TMON