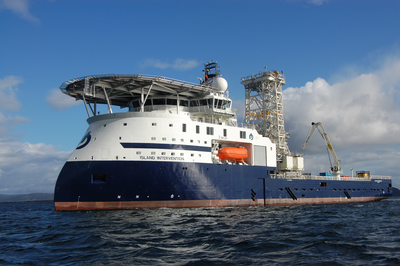 Island Intervention
An Offshore Construction and Well Intervention Vessel of the ULSTEIN SX121 design. The 25-metre wide and 120-metre long vessel can accommodate 100 persons. The vessel is fitted with a tower for module handling, moonpool, ROV hangar, offshore crane, helipad, and a diesel-electric propulsion system.
Additional Data
Technical fresh water
3150
Liquid mud/Brine (4 tanks, 2,8 t/m3)
509
Note: Specifications may have changed since the original completion date.
Classifications:
DnV1A1,
SF,
E0,
NAUT-OSV(A),
DYNPOS-AUTRO,
LFLFuelled,
CleanDesign,
OPP-F,
CRANE,
COMF-V(3),
COMF-C(3),
HELDK,
DK(+),
HL(2,8)
Ship history
The vessel was completed on time from ULSTEIN in the fourth quarter of 2010. The vessel was originally contracted by the shipping company Marine Subsea, which could not to take delivery of her after completion. The name painted on the side of the vessel was 'Karianne', but a naming ceremony was never held. On 20 May 2011, Ulstein Verft sold the vessel to Island Offshore, and the name became 'Island Intervention'.
Milestones
2016: Still active - IMO 9460095